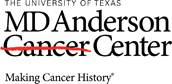 Job Information
MD Anderson Cancer Center

*$10,400 annual differential* Clinical Nurse, Outpt - Chemo Infusion Float Pool (South Region)

in

Houston

,

Texas
MISSION STATEMENT
The mission of The University of Texas M. D. Anderson Cancer Center is to eliminate cancer in Texas, the nation, and the world through outstanding programs that integrate patient care, research and prevention, and through education for undergraduate and graduate students, trainees, professionals, employees and the public.
SUMMARY
The primary purpose of the Clinical Nurse outpatient position is to positively affect patient outcomes by providing, coordinating, and supporting evidence based direct patient care across the continuum of care in multiple sites across the Ambulatory Treatment Center (ATC) enterprise. The highest quality of patient care and the appropriate use of resources is achieved in collaboration with the interdisciplinary team.
The ideal candidate will be a Clinical Nurse with at least two years of experience in an outpatient oncology infusion setting, administering chemotherapy to an adult patient population.
Shift: must be able to work 8 hr. shift when working at the Sugar Land and League City locations; 8hr or 10hr shifts available at the TMC location (candidate preference)
South Region - Texas Medical Center, Sugar Land, and League City HAL - travel reimbursement provided when traveling from TMC to Sugar Land and League City locations.
KEY FUNCTONS
Ambulatory Treatment Center (ATC) job specific competencies The ATC nurse has the competence and competencies regarding all aspects of administering and monitoring a variety of systemic cancer therapies and other injectable infusions to an adult population in the Ambulatory Treatment Center. Infusions administered may include (but are not limited to) standard of care and research chemotherapy, targeted therapy, and immunotherapy, blood products, IVIG, growth factors, antibiotics, electrolytes and hydration. Demonstrates excellent verbal and written communication skills.
Has the ability to assess and educate patients and family/caregivers to ensure future care needs are met. Develops collaborative, professional relationships with physicians and all members of the heath care team.
Specific competencies include : IV insertion and venous access device management; Accurate administration and monitoring of infusions via a variety of routes (oral, subcutaneous, intramuscular, intravenous); Performing an independent double-check for chemotherapy administration; Safe handling and disposal of chemotherapy to minimize patient and staff exposure to hazardous drugs; Continuous infusion pumps (connects and disconnects); Management of treatment related side effects and adverse reactions; Minimizing the risk for infection among patients who are actually or potentially immunocompromised; Knowledge needed to facilitate early detection of specific side effects that lead to effective self-management of the side effect when it does occur
Other duties as assigned
Education
Required: Graduation from an accredited school of professional nursing (RN).
Preferred: Bachelor's degree in Nursing
Experience
Required: None.
Preferred: Two years of nursing experience in an oncology infusion setting administering chemotherapy
Licensure/Certification
Required: Current State of Texas Professional Nursing license (RN). Basic Life Support (BLS) or Cardiopulmonary Resuscitation (CPR) certification. Advanced Cardiac Life Support (ACLS) certification if working in the following department: ASC Post Anesthesia (600761). Pediatric Advanced Life Support (PALS) if working in the following departments: ASC Post Anesthesia (600761) or Pedi - Child & Adolescent Center (113200).
Preferred: ONCC, chemotherapy/biotherapy course
All clinical nurses with less than one year of registered nurse (RN) work experience will be required to participate in the Clinical Nurse Residency Program.
It is the policy of The University of Texas MD Anderson Cancer Center to provide equal employment opportunity without regard to race, color, religion, age, national origin, sex, gender, sexual orientation, gender identity/expression, disability, protected veteran status, genetic information, or any other basis protected by institutional policy or by federal, state or local laws unless such distinction is required by law. http://www.mdanderson.org/about-us/legal-and-policy/legal-statements/eeo-affirmative-action.html
Additional Information
Requisition ID: 144200

Employment Status: Full-Time

Employee Status: Regular

FLSA: exempt and eligible for additional compensation for hours worked beyond your usual schedule, paid at a time and a half rate

Work Week: Day/Evening, Days, Evening/Night, Evenings, Nights, Rotating, Varied, Weekends

Fund Type: Hard

Pivotal Position: Yes

Minimum Salary: US Dollar (USD) 65,000

Midpoint Salary: US Dollar (USD) 87,500

Maximum Salary : US Dollar (USD) 110,000

Science Jobs: No