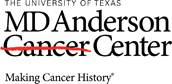 Job Information
MD Anderson Cancer Center

*$7280 unit differential annually* Clinical Nurse - Clinical & Translational Research Center

in

Houston

,

Texas
Mission Statement
The mission of The University of Texas M. D. Anderson Cancer Center is to eliminate cancer in Texas, the nation, and the world through outstanding programs that integrate patient care, research and prevention, and through education for undergraduate and graduate students, trainees, professionals, employees and the public.
Summary
The primary purpose of the Clinical Nurse position is to service and support the outpatient clinical trial unit. There is an onsite research laboratory, which supports the clinical research. Provide patient care, research data management, clinical trials coordination and support to a primarily adult ambulatory population.
Clinical & Translational Research Center (CTRC) is an on-site resource for M.D. Anderson investigators performing early clinical trials; and where patients receive intensive monitoring for complex, early-phase clinical trials.
The ideal candidate will have at least two years of clinical nursing experience preferably in oncology, research, med/surg and/or cardiac.
Shift: 7am - 5:30pm and 2pm - 12:30am with rotating weekends and holidays (shift assigned based on department need)
Key Functions
Clinical
Administers drugs (routine and emergency) observing the "5 RIGHTS": Right Patient, Right Medication, Right Dose, Right Route, Right Time.
Maintains proficiency in use of required devices and technology (computers, small and large volume infusion pumps, pt care equipment).
Reports and carefully documents all adverse reactions to commercial and investigational agents.
Assists with management and documentation of adverse drug reactions and basic cardiac life support as indicated
On behalf of patients, acts to ensure care that is safe, ethical and appropriate with consideration for values, ethics, diversity and human rights.
Provides age appropriate care and education to adult patients at various ages and stages throughout the life continuum.
Accurate, clear legible communication to support protocol data collection.
Facilitator/Consultant
Assumes primary responsibility for serving as a clinical expert for 3-4 assigned clinical protocols and serves as the primary liaison to research team and resource to peer staff and CTRC lab for assigned protocols.
Attends protocol start-up and site initiation meetings for selected protocols, coordinates resources needed for implementation with management, the study sponsor and the principal investigator.
Attends and participates in research in-services
Participate in the protocol review process as assigned.
Quality Assurance
Assures adherence to research requirement through accurate detailed documentation in the institutional EMR.
Assists in the ARMADA system project.
Reviews medical orders for consistency with the protocol and PK orders.
Collaborate with lab team to ensure protocol compliance.
Operational
Completes or assures completion of all technical and research billing.
Participates in initiatives to achieve goals, objectives and operational plans of the Clinical and Translational Research Center.
Inputs patient data into all required databases.
Participates in tours for governmental and industry clinical trials sponsors.
Transformational Leadership
Organized and priorities work of patient care team
Assures continuity of care as patients transition across the continuum through appropriate discharge planning, patient education and coordination of services
Practice autonomously within the scope of professional nursing practice.
Legible, concise, detailed documentation of the complete patient visit to support protocol requirement.
Other duties as assigned
Education
Required: Graduation from an accredited school of professional nursing (RN).
Preferred: Bachelor's of Science in Nursing
Experience
Required: None.
Preferred: Bachelor's degree with a minimum of 3 years of medical oncology experience, research nursing experience accepted in lieu of 1 year of medical oncology experience.
Licensure
Required: Current State of Texas professional nursing license (RN).
Current State of Texas Professional Nursing license (RN). Advanced Cardiac Life Support (ACLS) certification and Pediatric Advanced Life Support (PALS) certification if working in the following department: Nrsg Post Anesthesia Care Unit (600160).
Preferred: Oncology Nurse Certification (OCN)
All clinical nurses with less than one year registered nurse (RN) work experience will be required to participate in the Clinical Nurse Residency Program.
It is the policy of The University of Texas MD Anderson Cancer Center to provide equal employment opportunity without regard to race, color, religion, age, national origin, sex, gender, sexual orientation, gender identity/expression, disability, protected veteran status, genetic information, or any other basis protected by institutional policy or by federal, state or local laws unless such distinction is required by law. http://www.mdanderson.org/about-us/legal-and-policy/legal-statements/eeo-affirmative-action.html
Additional Information
Requisition ID: 144071

Employment Status: Full-Time

Employee Status: Regular

FLSA: exempt and eligible for additional compensation for hours worked beyond your usual schedule, paid at a time and a half rate

Work Week: Varied

Fund Type: Hard

Pivotal Position: Yes

Minimum Salary: US Dollar (USD) 65,000

Midpoint Salary: US Dollar (USD) 87,500

Maximum Salary : US Dollar (USD) 110,000

Science Jobs: No