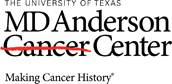 Job Information
MD Anderson Cancer Center

Accountant II

in

Houston

,

Texas
MISSION STATEMENT
The mission of The University of Texas M. D. Anderson Cancer Center is to eliminate cancer in Texas, the nation, and the world through outstanding programs that integrate patient care, research and prevention, and through education for undergraduate and graduate students, trainees, professionals, employees and the public.
SUMMARY
Provides accounting support for Clinical Research financial and operational activities of the Department of Lymphoma/Myeloma.
CORE VALUES
Caring Behaviors
Courtesy: Is respectful and courteous to each other at all times.

Friendliness/Teamwork: Promotes and rewards teamwork and inclusiveness; is sensitive to the concerns of our patients and our co-workers.
Integrity Behaviors
Reliability: Communicates frequently, honestly and openly.

Accountability: Holds self and others accountable for practicing our values.

Safety: Models safe behavior (wears badge and personal protective equipment, washes hands, and keeps work area clean and orderly); Notices a safety concern or emergency, understands role and uses proper procedures to report it; Mitigates risk to the institution through sound business practices; Demonstrates ethical and personal responsibility in work and behavior
Discovery Behaviors
Responsiveness: By his/her actions, creates an environment of trust; Encourages learning, creativity and new ideas.

Personal Leadership/Self-Initiative: Helps others to identify and solve problems; Seeks personal growth and enables others to do so.
JOB SPECIFIC COMPETENCIES
Experience with financial data analysis, using OBIEE, reconciling clinical research study accounts and experience with Epic account reconciliation is preferred.
Financial Analysis & Reporting
Prepare and maintain reports for all industry sponsored studies belonging to assigned PIs that show the financial status of each study, including both current revenue and expenses along with anticipated revenue and expenses.

Prepare and maintain reports for all assigned PIs summarizing free balances for all ancillary accounts (30s, 40s, 80s, 90s, etc.).

Provide account information when study team members and PIs need to make purchases or request services or new hires.

Regularly review all invoices from other departments within MD Anderson for accuracy and ensure that they are paid in a timely manner - IDSR, CTRC, etc.

Review and complete monthly Statistical Sampling entries for assigned PIs by institutional deadlines.

Review and analyze data from above reports to identify trends or problem areas and formulate strategic solutions to address any deficiencies.

Meet regularly with assigned faculty to review financial account status and provide updates regarding invoicing and payments, as well as discuss personnel financing and plan for their continued support.

Provide guidance and advice to faculty regarding the appropriate use of funds according to institutional policies and procedures.

Maintain projections of current and anticipated personnel spending along with anticipated personnel funding.

Create break even report for PI clinical trial portfolio and determine their team's monthly burn rate.

Review all sources of personnel funding to ensure all personnel are being charged to the correct accounts for invoicing and effort reporting purposes.

Prepare and process ePAFs for new hires, staffing changes, or to correct any errors on study deficits.

Regularly calculate personnel money earned on each sponsored project, and regularly prepare IDTs to move that personnel funding from individual study accounts to fund the personnel Infrastructure Accounts.

Assist in the preparation of other monthly and annual financial reports as assigned.

Manage Alliance trials for faculty and provide quarterly expense report to the sponsor or CRO
Invoicing
Review all sponsored contracts and invoice as appropriate on a routine basis to ensure invoicing occurs as outlined in the sponsored contract.

Download study charges from epic and reconcile against coverage analysis and budget to invoice sponsor for expense reimbursement

Track payments to ensure they have been received and reflected to study account as expected.

Coordinate with Grants & Contracts to make sure that the accounting for all invoices is accurate and all payments are posted to the correct accounts.

Review hospital billing records, study accounts, and coordinate with study teams to be sure that all invoiceables listed on the contract are properly invoiced to the sponsor.

Review patient travel reimbursement submissions from the patient, review for accordance with sponsor's contract and institutional rules, prepare check request submissions, prepare invoices for sponsor reimbursement, and monitor accounts to be sure that all patients have been properly reimbursed and all reimbursements have been paid by the sponsor.

Coordinate with Pre-Award on contract amendments for those studies where the existing contract does not provide adequate coverage for the expenses incurred.
Quarterly Effort Reporting/Certification
Coordinate the quarterly effort certification process with PI and study team members in accordance with institutional policy.

Review all effort cards for alignment with department records.

Meet with principal investigators to review their own effort cards as well as the cards for all employees whose salary is supported from their sponsored projects.

Monitor ECC system to track timely certification and processing of reports.

Process all ePAFs/retros needed to ensure that the effort certified matches actual payroll.

Maintain high level of expertise for effort certification through educational opportunities and interactions with Grants & Contracts personnel.
Monthly Fee processing of Institutional Start-up Fees and Department Core Rees related to clinical research projects and other studies
Process start-up fees on a monthly (or quarterly) basis ensuring timely and accurate recording and reporting of financial data.

Process department core fees acquired from clinical trials to ensure salaries are covered for regulatory accounting personnel and clinical research supervisors.

Other duties as assigned.
The performance for all functions is measured by observation by supervisor, reports from faculty and co-workers, the accuracy and timeliness of work produced, and the demonstrated ability to effectively work under stress. The position also requires one to anticipate needs, to recognize situations requiring assistance and have the ability to refer or perform any necessary tasks, and to comprehend the goals of the department and take the initiative in making decisions and taking actions to further these goals.
The above functions require the following abilities and skills:
Demonstrated proficiency in MS Excel, MS Access, Hyperion, and other institutional financial systems.

Demonstrated thorough working knowledge of institutional and state guidelines, which include purchasing, check requests, petty cash and travel. Also, a demonstrated working knowledge of mainframe access programs to monitor company center activities.

Ability to practice independently, strong verbal and written communication skills, organizational and critical judgment skills, and be able to interact effectively with patients and co-workers.

Strong attention to detail.

Ability to work with personal computers using standard word processing software, spreadsheets, and programs for database and graphics usage.

Ability to maintain a satisfactory work environment by organizing and redistributing files, records, etc., requiring bending, stooping, reaching, manual handling, walking, visually inspecting, extended standing, sitting and repetitive motions. May be required to lift up to 15 pounds.

Requires use of computer via keyboard, and operating facsimile machine, calculator, printer, photocopy machine, etc. Requires the use of push-button, multiple line telephone set. Must be able to master new software by utilizing available resources (other program personnel, reference manual, training classes, etc.)

Be clearly understood by verbal communication in face-to-face encounters and by telephone.

Strong command of the English language, including spelling, writing, and verbalizing and ability to communicate well verbally and in writing.
Other duties as assigned
COMPETENCIES
Analytical Thinking - Gather relevant information systematically; break down problems into simple components; make sound decisions.
Coach and Develop - Assess strengths and development needs of employees; provide challenging development opportunities; provide relevant, timely feedback; mentor others.
Innovative Thinking - Approach problems with curiosity and open-mindedness; offer new ideas, solutions and/or options.
Service Orientation
Provide service to our stakeholders, including patients, caregivers, colleagues and each other, in a safe, courteous, accountable, efficient and innovative manner to include:
Promoting inclusiveness and collegiality that demonstrates respect and professionalism to our stakeholders at all times

Modeling safe, ethical behavior that mitigates risk to the institution through sound business practices, and adherence to MD Anderson's Standards of Conduct, institutional policies and procedures

Responding to requests in a timely manner while proactively communicating expectations for procedures, service arrival, or project deliverables to stakeholders

Using the steps to HEAL (Hear, Empathize, Address and Learn) the relationship when service recovery is needed
Education Required: Bachelor's degree in Business Administration, Accounting or related field.
Experience Required: Two years of accountant experience required with a Bachelor's in Business Administration or related field. One year of accountant experience required with a Bachelor's in Accounting. May substitute required education degree with additional years of equivalent experience on a one to one basis.
It is the policy of The University of Texas MD Anderson Cancer Center to provide equal employment opportunity without regard to race, color, religion, age, national origin, sex, gender, sexual orientation, gender identity/expression, disability, protected veteran status, genetic information, or any other basis protected by institutional policy or by federal, state or local laws unless such distinction is required by law. http://www.mdanderson.org/about-us/legal-and-policy/legal-statements/eeo-affirmative-action.html
Additional Information
Requisition ID: 150171

Employment Status: Full-Time

Employee Status: Regular

FLSA: exempt and not eligible for overtime pay

Work Week: Day/Evening, Days

Fund Type: Hard

Work Location: Remote (within Texas only)

Pivotal Position: No

Minimum Salary: US Dollar (USD) 54,500

Midpoint Salary: US Dollar (USD) 68,000

Maximum Salary : US Dollar (USD) 81,500

Science Jobs: No