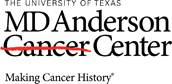 Job Information
MD Anderson Cancer Center

Advanced Prac Registered Nurse (APRN/PA)-Gastroenterology, Hepatology & Nutrition

in

Houston

,

Texas
The mission of The University of Texas M. D. Anderson Cancer Center is to eliminate cancer in Texas, the nation, and the world through outstanding programs that integrate patient care, research and prevention, and through education for undergraduate and graduate students, trainees, professionals, employees and the public.
Summary
The individual who fulfills this position is responsible for the performance of increasingly independent and complex tasks under the guidance of the attending physician in addition to duties of a more routine and standardized nature. Provides direct diagnostic and therapeutic patient care under Physician supervision. Impacts quality of patient care and patient outcomes throughout the disease process.
Core Values
Caring Behaviors
Courtesy : Is respectful and courteous to each other at all times; Gives full attention to others minimizing distractions; Does not gossip or air frustration inappropriately; Uses a respectful / professional tone of voice

Friendliness/Teamwork : Promotes and rewards teamwork and inclusiveness; Is sensitive to the concerns of our patients and our co-workers; Expresses awareness of others' experiences and views; Listens to patients and coworkers' needs and empathizes with them; Is aware of and respects individual differences, such as age, gender, ethnicity, physical ability, sexual orientation, religion, culture, background, and experiences; Demonstrates collegiality to others in an effort to create a cooperative and collaborative environment
Integrity Behaviors
Reliability : Promotes and adheres to M. D. Anderson's Standards of Conduct in addition to all applicable institutional policies and procedures.; Communicates time expectations to patients, their families and referring services for tests, procedures, or project deliverables related to patient care; By his/her actions, creates an environment of trust; Adheres to attendance policy by timely reporting to work and returning from breaks; Admits when wrong, apologizes and takes steps to resolve conflicts that may be encountered.

Safety : Notices a safety concern and brings it to someone's attention; Models safe behavior (wears badge, washes hands, keeps work area clean and orderly); Mitigates risk to the institution through sound business practices; Demonstrates ethical and personal responsibility in work and behavior
Discovery Behaviors
Responsiveness : Encourages learning, creativity, and new ideas; Responds to requests from others in a timely manner; Offers help before being asked; Provides help to patients and coworkers that may be outside of job responsibilities (does not say, "It's not my job."); Looks for new and better ways of doing things
Key Functions
Provides assessment, prioritization of requested clinical service and therapeutic management. Interacts with patient and family needs throughout the disease process and assumes an integral part of patient care as a team member on the in-patient and out-patient service.

Acts under the authority and supervision of the attending physician, and in accordance with regulations, hospital policy, protocols and clinical pathways.

Obtains medical histories, performs physical examinations, and reviews/orders diagnostic tests including endoscopic procedures and radiographic results. Formulates and helps manages patient consultation and treatment plans and outcomes.

Prescribes treatment under the guidance of the attending physician and signs prescriptions in accordance with institution and state requirements.

Screens physician calls to educate patient/family on care and resources.

Makes rounds with the in-patient team.

Collaborates in research projects and protocols. Applies best practices research to patient care.
Other duties as assigned.
EDUCATION: Master's Degree in Nursing or Doctor of Nursing Practice. May be waived for applicants who obtained recognition as an Advanced Practice Registered Nurse from the Texas State Board of Nursing prior to 1/1/2003. Graduate education and related Texas Board of Nursing authorization must be consistent with clinical practice area and patient population.
All of the following: Written authorization from the Texas Board of Nursing to function as an Advanced Practice Registered Nurse (APRN or ACNP or ACNPC or ACAGNP or AGACNP or ACNPC-AG or AGACNP or AGNP or ACPNP or ANP or AGNP or AGPCNP or FNP or GNP or PNP or PMHNP or WHNP or APNP). Related authorization must be consistent with clinical practice area and patient population. Basic Life Support (BLS). Pediatric Advanced Life Support (PALS) If working in the following departments: Pediatric - Patient Care (113100). MAY BE REQUIRED: Authorization for limited prescriptive authority by the Texas Board of Nursing.
It is the policy of The University of Texas MD Anderson Cancer Center to provide equal employment opportunity without regard to race, color, religion, age, national origin, sex, gender, sexual orientation, gender identity/expression, disability, protected veteran status, genetic information, or any other basis protected by institutional policy or by federal, state or local laws unless such distinction is required by law. http://www.mdanderson.org/about-us/legal-and-policy/legal-statements/eeo-affirmative-action.html
Additional Information
Requisition ID: 151802

Employment Status: Full-Time

Employee Status: Regular

FLSA: exempt and not eligible for overtime pay

Work Week: Day/Evening

Fund Type: Hard

Work Location: Hybrid Onsite/Remote

Pivotal Position: No

Minimum Salary: US Dollar (USD) 100,000

Midpoint Salary: US Dollar (USD) 125,000

Maximum Salary : US Dollar (USD) 150,000

Science Jobs: No