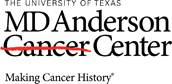 Job Information
MD Anderson Cancer Center

Advanced Practice Registered Nurse - Lymphoma / Myeloma

in

Houston

,

Texas
The mission of The University of Texas M. D. Anderson Cancer Center is to eliminate cancer in Texas, the nation, and the world through outstanding programs that integrate patient care, research and prevention, and through education for undergraduate and graduate students, trainees, professionals, employees and the public.
The primary purpose of the Advanced Practice Registered Nurse (APRN) is to provide direct diagnostic and therapeutic patient care. The APRN impacts quality of patient care and patient outcomes throughout the care continuum.
KEY FUNCTIONS
Patient Assessment:
Provides quality patient care in relation to the patient's prescribed diagnosis, treatment, age group, development and other identified needs. This involves talking to patients and patient's families. Must be able to verbally communicate findings to physician and family members.
Assesses health status by performing the medical history, physical examination and psychosocial assessment.
Makes daily rounds on each patient and reports findings and test results to attending physician. Must be able to visually check records and write findings.
Monitors laboratory, clinical radiographic and procedural data for daily rounds. Must visually evaluate data and prepare written information.
Reviews the findings of the history and physical, pertinent laboratory data, radiographic data, plan for further diagnosis and therapeutic management as outlined in collaboration with the attending physician. This involves sitting for extended periods of time and visually evaluating data from a computer. Requires good perception and reading comprehension.
Intervention/Evaluation:
Prevents, minimizes and manages symptoms/toxicities/health abnormalities related to disease or treatment in collaboration with physician and other allied personnel.
Evaluates health care provided and modifies care as needed.
Provides psychological support to patients and families.
Provides health care throughout the disease process: diagnosis, treatment, rehabilitation, palliative and terminal care.
Facilitates use of agency resources.
Facilitates communication between patient/family and interdisciplinary team and coordinates services related to patient care. This may involve sitting at the computer for long periods of time and entering data via keyboard.
Schedules consultations, diagnostic tests or procedures, future appointments for patients in coordination with the attending physician. Must be able to walk from one area of the hospital to another to pick up and distribute information.
Performance of diagnostic/therapeutic procedures:
Undergoes training of specific medical procedures at MDACC by a physician.
Demonstrates competency of specific procedure under the direct supervision of a physician leading to certification to perform the procedure.
Performance of medical procedures may include: obtaining blood form arterial and venous punctures including central lines; venous catheters and heparin locks; administration of drugs as needed including intravenous, intra-arterial, intrathecal, intraventricular, intra-pleural and intraperitoneal; lumbar puncture, thoracentesis, bone marrow biopsy, multiple bone marrow aspirations, paracentesis or other medical procedures under the supervision of an M.D. Must be able to bend body at waist and manipulate fingers in careful movements to draw blood specimens. Must be able to grasp objects with fingers and palm and make repetitive movements with arms and hands and make receptive movements with legs and feet and maintain controlled steady arm-hand positions.
Certified and perform outpatient and/or inpatient Bone Marrow Aspiration (BMA) procedures
Educator:
Provides health education to the patient and his/her family.
Participates in formal and informal instruction of nursing students, professional nurses and other health professionals.
Keeps self current by: (1) attending continuing education programs related to the clinical area, (2) reviewing literature related to clinical area, (3) participating in professional nursing organizations, (4) communicating advances in nursing practice or health care in general n writing through publications and presentation of scientific papers.
Researcher:
Contributes to research efforts of department/section by: (1) identifying clinical problems amenable to research methods and (2) initiating or collaborating in research projects.
Applies pertinent research to clinical practice.
Consultation:
Provides consultation to colleagues and allied personnel.
Collaborates with medical, nursing and other disciplines regarding plan of care, follow-up and evaluation.
Recommends therapeutic measures for relief of symptoms.
EDUCATION
Required:
Master's Degree in Nursing or Doctor of Nursing Practice. May be waived for applicants who obtained recognition as an Advanced Practice Registered Nurse from the Texas State Board of Nursing prior to 1/1/2003. Graduate education and related Texas Board of Nursing authorization must be consistent with clinical practice area and patient population.
EXPERIENCE
Preferred: At least one year of experience in APRN role.
LICENSURE / CERTIFICATION
Required:
All of the following:
Written authorization from the Texas Board of Nursing to function as an Advanced Practice Registered Nurse (APRN or ACNP or ACNPC or ACAGNP or AGACNP or ACNPC-AG or AGACNP or AGNP or ACPNP or ANP or AGNP or AGPCNP or FNP or GNP or PNP or PMHNP or WHNP or APNP). Related authorization must be consistent with clinical practice area and patient population.
Basic Life Support (BLS).
Pediatric Advanced Life Support (PALS) If working in the following departments: Pediatric - Patient Care (113100).
MAY BE REQUIRED: Authorization for limited prescriptive authority by the Texas Board of Nursing.
It is the policy of The University of Texas MD Anderson Cancer Center to provide equal employment opportunity without regard to race, color, religion, age, national origin, sex, gender, sexual orientation, gender identity/expression, disability, protected veteran status, genetic information, or any other basis protected by institutional policy or by federal, state or local laws unless such distinction is required by law. http://www.mdanderson.org/about-us/legal-and-policy/legal-statements/eeo-affirmative-action.html
Additional Information
Requisition ID: 148633

Employment Status: Full-Time

Employee Status: Regular

FLSA: exempt and not eligible for overtime pay

Work Week: Day/Evening, Days, Varied, Weekends

Fund Type: Hard

Work Location: Onsite

Pivotal Position: Yes

Minimum Salary: US Dollar (USD) 100,000

Midpoint Salary: US Dollar (USD) 125,000

Maximum Salary : US Dollar (USD) 150,000

Science Jobs: No