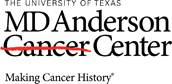 Job Information
MD Anderson Cancer Center

Analytical Development Cell Biology Scientist

in

Houston

,

Texas
The mission of The University of Texas M. D. Anderson Cancer Center is to eliminate cancer in Texas, the nation, and the world through outstanding programs that integrate patient care, research and prevention, and through education for undergraduate and graduate students, trainees, professionals, employees and the public.
Therapeutics Discovery and Development
MD Anderson Cancer Center (MDACC), the largest research-based Cancer Center in the nation, is taking a unique approach in the battle against cancer. It is well-known that MDACC is home to an esteemed academic faculty that cover all aspects of cancer research, publish prolifically in leading journals and present extensively at all major conferences. In addition MD Anderson boasts a vast oncology clinic that runs more clinical trials than any other institution and has created unparalleled capabilities is cell therapy trials. In between the basic science and the translation, MDACC has created a powerful engine driving the future of new targeted, immune- and cell-based therapies: The Therapeutics Discovery and Development (TDD) Division. TDD eliminates the bottlenecks that hamper traditional drug discovery, with a multidisciplinary team of dedicated researchers, doctors, drug developers and scientific experts working together to develop small-molecule drugs, biologics and cellular therapies. Our unique structure and collaborative approach allows the team to work with agility, bringing novel medicines from concept to clinic quickly and efficiently – all under the same roof.
Biologics Product Development
Biologics, be it monoclonal antibodies (mAbs) or cell therapies are complex therapeutics that are revolutionizing the treatment of cancer and yet are difficult to robustly develop and manufacture. To unlock the potential of these modalities MDACC is investing in Biologics Development capabilities within TDD accelerate the results we have already achieved, with multiple programs currently in clinical development. The goal will be to develop industrial biologics with a commercial horizon within the innovative environment of an academic cancer center. The group will be a composite of industry veterans who are interested in applying their experience to develop innovative therapeutics and see them impact patients, as well as academics looking to turn science into products. We work in a fast-paced, milestone-driven environment with a focus on team science and interdisciplinary research. Our unique approach has created a biotech-like engine within the walls of the nation's leading cancer center to bring life-saving medicines to our patients more quickly and effectively.
Scientist, Cell Therapy Analytical Development
This Scientist will focus on Analytical Development of cell-based therapies and is a key talent reporting directly to the Head of Analytical Development and Characterization. MDA is the leader in clinical trials for cell therapies, including the lead site for Kymriah. These clinical capabilities are matched by a faculty that is pressing the boundaries of new cell therapy modalities. In order to advance these promising concepts to and through the clinic, we are investing in new internal process development and manufacturing capabilities.
The successful candidate will lead assay development and product characterization of cell-based therapies, partiularly as related to immunoncology, with major efforts to:
•Design assessments to address the issues of identity, purity, and potency for therapeutics.
•Identify key metrics to help further characterize therapeutic products and identify potential Critical Quality Attributes.
•Identify sources of error and risk in repeated use of assessments over time and multiple users.
•Help establish correlations between clinical outcomes and product/process characteristics of therapeutics.
•Establish assays in preparation for tech transfer to QC, such as :
oQualify assays by assessing sensitivity, precision, accurace, linearity, LOD, LOQ, robustness, etc.
oCraft SOPs and Test Forms suitable to facilitate tech transfer to GMP QC testing.
oDesign stability protocols.
Since this is a new team being built with the successful candidate among the first hired, initial efforts in 2020 may also include activities related to starting a new program, such as identifying equipment to purchase, setting up procedures for equipment use, input into the design of laboratory space, etc. In addition, leadership within the Analytical Development team in terms of subsequent hires, establishing processes, and outreach to external groups is expected.
The successful candidate has directed junior associates and developed cell-based assays for QC assessment. The most relevant technical skills include adherent and suspension mammalian cell culture, multi-parameter flow cytometry, and quantitative PCR. The successful candidate also has strengths in thorough documentation, data presentation & statistical analysis, and oral & written communication to multi-functional teams.
Education
Required: Bachelor's degree in a related field.
Preferred: Ph.D. in related scientific / engineering field.
Experience
Required: Seven years of relevant experience to include three years of supervisory or managerial experience. With Master's degree, five years of required experience to include four years of lead or supervisory experience.
Preferred:
•3+ years of experience in development of cell-based therapies. Role level will be adjusted to match level of experience.
•Experience in Analytical Development, particularly as related to cell therapies. Understanding of the FDA Regulatory requirements as related to cellular identity, purity, and potency.
•Demonstrated ability to collaborate effectively in a multi-disciplinary team.
•Demonstrated strong communication skills, interpersonal skills and a superior drive for results.
•Excellent written, oral, interpersonal and presentation skills and the ability to effectively interface with senior management and staff.
•Excellent judgment and creative problem-solving skills, including negotiation and conflict resolution skills.
•Ability to operate as an effective tactical, as well as strategic thinker.
•Ability to coach and influence junior level scientists and associates.
It is the policy of The University of Texas MD Anderson Cancer Center to provide equal employment opportunity without regard to race, color, religion, age, national origin, sex, gender, sexual orientation, gender identity/expression, disability, protected veteran status, genetic information, or any other basis protected by institutional policy or by federal, state or local laws unless such distinction is required by law. http://www.mdanderson.org/about-us/legal-and-policy/legal-statements/eeo-affirmative-action.html
Additional Information
Requisition ID: 136392

Employment Status: Full-Time

Employee Status: Regular

FLSA: exempt and not eligible for overtime pay

Work Week: Days

Fund Type: Soft

Pivotal Position: Yes

Minimum Salary: US Dollar (USD) 98,000

Midpoint Salary: US Dollar (USD) 122,500

Maximum Salary : US Dollar (USD) 147,000

Science Jobs: Yes