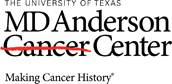 Job Information
MD Anderson Cancer Center

Clinical Investigation Technician - Phlebotomy (8am-4:30pm)

in

Houston

,

Texas
POSITION HOURS: 8:00AM - 4:30PM
Position Title: Clinical Invest Technician
Department: Clinical and Translational Research Center Laboratory (CTRC Lab)
Division: Cancer Medicine
Reports to: Supervisor, Clinical Invest Technician
Mission Statement
The mission of The University of Texas M. D. Anderson Cancer Center is to eliminate cancer in
Texas , the nation, and the world through outstanding programs that integrate patient care, research and prevention, and through education for undergraduate and graduate students, trainees, professionals, employees and the public.
Summary
The primary purpose of the Clinical Investigation Technician position is to collect specimens ordered for patients and deliver them to the laboratory for processing. Impacts the quality and timeliness of specimen review.
Core Values
Caring Behaviors
Courtesy: Is respectful and courteous to each other at all times

Friendliness/Teamwork: Promotes and rewards teamwork and inclusiveness; Is sensitive to the concerns of our patients and our co-worker.
Integrity Behaviors
Reliability: Communicates frequently, honestly and openly

Accountability: Holds self and others accountable for practicing our values

Safety: Notices a safety concern and brings it to someone's attention; Models safe behaviors (wears badge, washes hands, keeps work area clean and orderly); Mitigates risk to the institution through sound business practices.
Discovery Behaviors
Responsiveness: By his/her actions, creates an environment of trust; Encourages learning, creativity and new ideas

Personal Leadership/Self-Initiative: Helps others to identify and solve problems; Seeks personal growth and enables others to do so
Key Functions
Specimen collection and processing
Collect and store the patient samples for analysis in the laboratory.

Accurately label all samples.

Enter sample data into database in accordance with prescribed procedures.

Process samples according to protocol requirements (e.g., centrifuge to obtain plasma or serum).

Label, pipette, and transfer to appropriate containers and store at specified temperature.
Recordkeeping.
Maintain accurate daily log of all samples collected and serve as contact for status of samples collected from patients on given protocols.

Record shipments to sponsor pharmaceutical companies.

Serve as an information source of sample status for collaborators and sponsors.

Collect and organizes information for project reports.

Research-related activities

Perform EKGs for protocol patients, as assigned.

Attend clinical protocol start-up meetings with sponsor company representatives and institutional clinical personnel to assure that sample collection procedures and forms are fully understood.

Package samples so that they arrive at destination in a suitable condition.

Arrange shipment of sample boxes with a suitable air freight carrier and contact collaborators or sponsor personnel to coordinate shipments and verify receipt of samples.

Handle dry ice.

Supply inventory and lab maintenance

Maintain adequate stock of general and phlebotomy supplies.

Know the procedure for obtaining repair or maintenance for lab equipment.

Prepare stock solutions.

Perform routine laboratory jobs (glassware washing, contact hazardous waste collection services, package medical waste in biohazard bags, etc.).

Learn to operate laboratory equipment and apparatus and perform routine operator maintenance.

Maintain alertness and careful attention to avoid injury to self and others due to chemicals and hazardous materials in the laboratory.

Other duties as assigned.

Pathology

Biopsies
The performance for all expected outcomes is measured by observation by supervisor, reports from faculty and co-workers, the accuracy and timeliness of work produced, and the demonstrated ability to effectively work under stress. The position also requires one to anticipate needs, recognize situations requiring assistance and have the ability to refer or perform any necessary tasks, and comprehend the goals of the department and take the initiative in making decisions and taking actions to further these goals.
The above functions require the following abilities and skills:
Standing for long periods of time, moving around from one area of the laboratory to another to work with different equipment, walking to different floors of the hospital to collect samples and to get patients' records.

Steady-hand posture is necessary. Visually checking for cells in the microscope and ability to use cameras and other photographic and laboratory equipment is also required.

Requires keeping handwritten records.

May involve occasional exposure to hazardous equipment and materials.

Ability to practice independently, strong verbal and written communication skills, organizational and critical judgment skills, and ability to interact effectively with patients and co-workers.

Strong attention to detail.

Strong organizational skills.

Ability to work with personal computers using standard word processing software, spreadsheets, and programs for database and graphics usage.

Demonstrate the ability to maintain a satisfactory work environment by organizing and redistributing files, records, etc., requiring bending, stooping, reaching, manual handling, walking, visually inspecting, extended standing, sitting and repetitive motions. May be required to lift up to 15 pounds.

Requires use of computer via keyboard, and operating facsimile machine, calculator, printer, photocopy machine, etc. Requires the use of push-button, multiple line telephone set. Must be able to master new software by utilizing available resources (other department personnel, reference manual, training classes, etc.)

Ability to be clearly understood by verbal communication in face-to-face encounters and by telephone.

Strong command of the English language, including spelling, writing, and verbalizing and ability to communicate well verbally and in writing.
Core Competencies
IC - Team with Others:

Encourage collaboration and input from all team members;

Value the contributions of all team members; and

Balance individual and team goals

IC - Self-Motivation:

Set high standards of performance;

Pursue goals with energy and persistence; and

Drive for results and achievement.

IC - Oral Communication:

Express ideas clearly and concisely in groups and one-to-one conversations; and

Create an environment with open channels of communication.
Working Conditions
This position requires:
Working in Office Environment
No
Yes
Working in Patient Care Unit (e.g. Nursing unit; outpatient clinic)
No
Yes
Exposure to human/animal blood, body fluids, or tissues
No
Yes
Exposure to harmful chemicals
No
Yes
Exposure to radiation
No
Yes
Exposure to animals
No
Yes
Physical Demands
Indicate the time required to do each of the following physical demands:
Time Spent
Never
0%
Occasionally
1-33%
Frequently
34-66%
Continuously
67-100%
Standing
Walking
Sitting
Reaching
Lifting/Carrying
Up to 10 lbs
10lbs to 50 lbs
More than 50 lbs
Pushing/Pulling
Up to 10 lbs
10lbs to 50 lbs
More than 50 lbs
Use computer/keyboard
Education
Required: High school diploma or equivalent.
Experience
Required: Three years of phlebotomy experience. Additional education may substitute for up to two years of the required experience on a one to one basis.
It is the policy of The University of Texas MD Anderson Cancer Center to provide equal employment opportunity without regard to race, color, religion, age, national origin, sex, gender, sexual orientation, gender identity/expression, disability, protected veteran status, genetic information, or any other basis protected by institutional policy or by federal, state or local laws unless such distinction is required by law. http://www.mdanderson.org/about-us/legal-and-policy/legal-statements/eeo-affirmative-action.html
Additional Information
Requisition ID: 149644

Employment Status: Full-Time

Employee Status: Regular

FLSA: non-exempt, eligible for overtime, and is subject to the provisions of the Fair Labor Standards Act (FLSA)

Work Week: Days

Fund Type: Soft

Work Location: Onsite

Pivotal Position: No

Minimum Salary: US Dollar (USD) 39,500

Midpoint Salary: US Dollar (USD) 49,500

Maximum Salary : US Dollar (USD) 59,500

Science Jobs: No