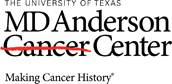 Job Information
MD Anderson Cancer Center

Clinical Nurse, Outpatient - Brain and Spine Center

in

Houston

,

Texas
Mission Statement
The mission of The University of Texas M. D. Anderson Cancer Center is to eliminate cancer in Texas, the nation, and the world through outstanding programs that integrate patient care, research and prevention, and through education for undergraduate and graduate students, trainees, professionals, employees and the public.
Summary
The primary purpose of the Outpatient Clinical Nurse position is to coordinate and implement patient care across the continuum of care. The Outpatient Clinical Nurse is accountable and responsible for providing quality, evidence-based patient care through the appropriate use of resources in collaboration with the inter-professional team. Acts as a patient and family advocate to uphold patient rights. Organizes and prioritizes work of patient care team; trains, coaches and assists team members to ensure optimum patient care and efficient use of resources.
Primarily responsible for providing, coordinating and supporting the aspects of direct patient care across the continuum of care.
Scope: Manages the quality of patient care, patient outcomes and use of the necessary resources in the Brain and Spine Center in collaboration with the multidisciplinary team.
The ideal candidate will have at least three years of clinical nursing experience preferably in oncology, research, med/surg and/or cardiac.
Typical shift is Monday - Friday 8am - 5pm no holidays or weekends.
Essential Functions:
Provides and manages patient care in the Brain and Spine Center

Assesses the patient's needs for nursing care and other services using clinical skills and visual, aural, and analytical abilities

Collaborates with physicians, other services, patient and family to plan care and evaluate outcomes, requiring strong interpersonal skills.

Integrates knowledge of age-specific care needs, principles of oncology practice, institutional goals and standards and nursing professional standards in the provision of patient care

Demonstrates clinical competency and compassion in providing care, using technology, administering medications, performing procedures and managing emergencies

Ensures safety and quality standards into practice of delivering care

Documents care according to set standards

Assess, inputs, and retrieves information from the computer systems

Assures continuity of care through appropriate discharge planning, education and coordination of services

Upholds patient right by being a patient advocate

Organizes and prioritizes work of patient care team; trains, coaches and assists team members to ensure optimum patient care and efficient use of resources

Effectively and consistently functions in related roles as required; i.e. charge nurse, preceptor
Marginal Functions:
Perform other duties as assigned
Physical Demands:
Work is performed within critical time frames and under stressful situations

Lift 50 - 100 lbs. of force, reach overhead and bend sufficiently to assist patients

Frequent use of computer keyboard and monitor, walk within buildings and move heavy equipment as needed
Education
Required: Graduation from an accredited school of professional nursing (RN).
Preferred: Bachelor's of Science in Nursing
Experience
Required: None.
Preferred: Two years of nursing experience; outpatient/ambulatory experience is a plus.
Licensure
Required: Current State of Texas Professional Nursing license (RN). Basic Life Support (BLS) or Cardiopulmonary Resuscitation (CPR) certification. Advanced Cardiac Life Support (ACLS) certification if working in the following department: ASC Post Anesthesia (600761). Pediatric Advanced Life Support (PALS) if working in the following departments: ASC Post Anesthesia (600761) or Pedi - Child & Adolescent Center (113200).
Preferred: Oncology Nurse Certification (OCN) or specialty practice area
Working Conditions:
May involve occasional exposure to one or more disagreeable element, such as infectious disease

Will have direct contact with patients and families

Must be able to coordinate and perform multiple activities; set and implement priorities; and establish and maintain cooperative working relationships.
All clinical nurses with less than one year of registered nurse (RN) work experience will be required to participate in the Clinical Nurse Residency Program.
It is the policy of The University of Texas MD Anderson Cancer Center to provide equal employment opportunity without regard to race, color, religion, age, national origin, sex, gender, sexual orientation, gender identity/expression, disability, protected veteran status, genetic information, or any other basis protected by institutional policy or by federal, state or local laws unless such distinction is required by law. http://www.mdanderson.org/about-us/legal-and-policy/legal-statements/eeo-affirmative-action.html
Additional Information
Requisition ID: 152190

Employment Status: Full-Time

Employee Status: Regular

FLSA: exempt and eligible for additional compensation for hours worked beyond your usual schedule, paid at a time and a half rate

Work Week: Days

Fund Type: Hard

Work Location: Onsite

Pivotal Position: Yes

Minimum Salary: US Dollar (USD) 66,000

Midpoint Salary: US Dollar (USD) 90,000

Maximum Salary : US Dollar (USD) 114,000

Science Jobs: No