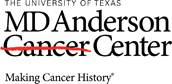 Job Information
MD Anderson Cancer Center

Clinical Supervisor, Radiation Oncology Business Services

in

Houston

,

Texas
The mission of The University of Texas MD Anderson Cancer Center is to eliminate cancer in Texas, the nation, and the world through outstanding programs that integrate patient care, research and prevention, and through education for undergraduate and graduate students, trainees, professionals, employees and the public .
The primary responsibility of the Clinical Supervisor is to facilitate patient medical clearance using oncology knowledge, clinical judgment, critical thinking skills, and communication skills to assist in resolving difficulties surrounding patient access and authorization.
Key Functions
Review clinical case and develop an individualized patient advocacy strategy with the clinical teams for authorization.

Be aware of the start dates and desires of the clinical team and ensure that the timelines needed by the business office are in step with the clinical team.

Collaborate with the clinical team so that you understand the rationale for treatment and that rationale can be clearly articulated to the insurance companies.

Consistently and accurately utilizes medical acceptance criteria and clinical background data to develop a strong clinical argument for the physician defined care plan.

Stays current on recent studies and publications that will strengthen the clinical argument during the appeals process.

Stay versed on and educate the team(s) on clinical arguments that will help when analyzing benefits.

Effectively communicates with the Patient Navigator and Patient Access Specialist to facilitate timely response to necessary information for authorization. Once a patient has been denied services through the authorization process the CS develops an appeal letter and plan for the insurance companies.

Ensure that the Patient Navigator understands what is needed from the patient. Coach and develop the conversations with the Navigator so that you can ensure they are managing to the standard workflow.

Pull random calls monthly from your team to ensure compliance. Use the grading tool and report monthly to leadership.

Lead and assist teams in securing pre-service authorization determinations for patients.

Review your monthly key performance indicators to ensure that timelines are being met.

Provide leadership a monthly report of your KPIs and an analysis of deficiencies with action plans.

Perform yearly performance reviews.

Perform monthly KPI analysis and provide a 360 review.

Knowledgeable on state and federal appeals guidelines and monitors appeal timelines to ensure the best outcome for the patient.

When there are changes to those guidelines gather information and share with your team to ensure understanding.

Huddle with the team(s) daily to ensure patient cases are meeting timelines

Address with team members as a team and individually when KPIs are not being met.

Coach and develop team members so that they understand the workflow and standard operating procedures.

Ensure adequate training has been established and identify when more is needed.

Identify when employees are not meeting goals and work to correct those actions. When needed develop corrective action plans.

Provide bi-weekly updates to the clinical staff to ensure they are aware of all patient cases.

Understand the attendings desire to do peer-to-peers and ensure that your team knows that and executes that correctly. When needed conduct peer-to-peers as part of the clinical staff.

Other duties as assigned.
WORKING CONDITIONS
Frequency
Deadlines - Work environment is deadline focused on the time or date in which a particular task must be finished, or a particular assignment, task or function must be done.
Sedentary Environment - Worker will spend majority of time seated at workstation.
100
100
PHYSICAL DEMANDS
Frequency
Weight
Keyboarding - The ability to enter data by the means of a keyboard.
Daily
100
Education
Required : Bachelor's of Science in Nursing or Graduation from an accredited school of dosimetry.
Experiecne
Required : Four years clinical nursing experience to include two years radiation oncology experience and one year team lead or supervisory experience. With Dosimetry degree, two years of experience required. Successful completion of the LEADing Self Accelerate program may substitute for one year of required supervisory or management experience.
Preferred : Previous experience working with insurance/payors, Medicare, Managed care, Medicaid
Certification/Licensure
Required: Current State of Texas Professional Nursing License (RN), or Certification as a Medical Dosimetrist by the Medical Dosimetrist Certification Board (MDCB) within two years of job entry. Basic Life Support (BLS) or Cardiopulmonary Resuscitation (CPR) certification.
It is the policy of The University of Texas MD Anderson Cancer Center to provide equal employment opportunity without regard to race, color, religion, age, national origin, sex, gender, sexual orientation, gender identity/expression, disability, protected veteran status, genetic information, or any other basis protected by institutional policy or by federal, state or local laws unless such distinction is required by law. http://www.mdanderson.org/about-us/legal-and-policy/legal-statements/eeo-affirmative-action.html
Additional Information
Requisition ID: 139498

Employment Status: Full-Time

Employee Status: Regular

FLSA: exempt and not eligible for overtime pay

Work Week: Days

Fund Type: Hard

Pivotal Position: Yes

Minimum Salary: US Dollar (USD) 90,000

Midpoint Salary: US Dollar (USD) 112,500

Maximum Salary : US Dollar (USD) 135,000

Science Jobs: No