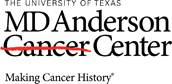 Job Information
MD Anderson Cancer Center

Coordinator Clinical Research Programs - Investigational Cancer Therapeutics

in

Houston

,

Texas
The mission of The University of Texas M. D. Anderson Cancer Center is to eliminate cancer in Texas, the nation, and the world through outstanding programs that integrate patient care, research and prevention, and through education for undergraduate and graduate students, trainees, professionals, employees and the public.
The Department of Investigational Cancer Therapeutics conducts broad phase I studies across disease boundaries and molecular targets. We strive to provide outstanding patient care while performing innovative phase I trials with new drugs that may eventually improve the management of cancer.
The primary purpose of the Coordinator, Clinical Research Program position is to provide administrative services for the coordination of phase I research studies, sponsored agreements and contracts. Provides administrative support and guidance, and research project management services for the department. This position exercises considerable discretion in the implementation and reporting of research activities within the program and is integral to the daily provision of services provided to both faculty and administrative agents of the institution.
Salary Range: Min $50,800 - Mid $63,500 - Max $76,200
Key Functions
Protocol development/activation
Develop and maintain knowledge of institutional protocol submission procedures and requirements.
Maintain a processing and tracking system for all protocol related paperwork.
· Collect and develop criteria information for protocol submission.
· Submit FReD checklist and other compliance documents for clinical trial agreement review, negotiation, and execution.
· Interact with appropriate institutional staff to ensure that the protocol approval process is completed in a timely manner.
· Keep the PI informed of issues with the protocol approval or clinical trial agreement negotiations.
· Interact with staff in VP Office for Research Administration for issues related to INDs that the institution will hold as the sponsor.
Attend planning meetings, such as site initiation visits (SIVs).
Protocol administration/maintenance
· Coordinate regulatory correspondence.
Communicate verbally and in writing, as needed or as requested by the principal investigator of the study with internal reviewers or external agencies (pharmaceutical companies and /or government sponsors).

Complete forms and comply with institutional, state, and federal agency requirements; prepare reports for the surveillance committee and the sponsoring agencies as specified in the reporting requirements.
· Work with staff in Patient Business Services to develop research charge tickets for protocols.
· Interact with appropriate institutional staff for amendments to clinical trials.
· Coordinate FDA submissions and participate in research audits, as required.
Data collection and reporting
· Provide assistance in the preparation of technical reports, abstracts, slide presentations, spreadsheets, posters, and manuscripts for submission to corporate and federal sponsors, conferences, and scientific journals, as assigned.
Copyedit technical reports.

Proofread galley proofs of manuscripts nearing publication.
Review protocol documents including abstracts, text and informed consent for relevant information.
Interact with NCI and pharmaceutical industry to correct/update protocol documents.
Working Conditions
This position requires:
Working in Office Environment
No
X
Yes
Working in Patient Care Unit (e.g. Nursing unit; outpatient clinic)
X
No
Yes
Exposure to human/animal blood, body fluids, or tissues
X
No
Yes
Exposure to harmful chemicals
X
No
Yes
Exposure to radiation
X
No
Yes
Exposure to animals
X
No
Yes
Physical Demands
Indicate the time required to do each of the following physical demands:
Time Spent
Never
0%
Occasionally
1-33%
Frequently
34-66%
Continuously
67-100%
Standing
X
Walking
X
Sitting
X
Reaching
X
Lifting/Carrying
Up to 10 lbs
X
10lbs to 50 lbs
X
More than 50 lbs
X
Pushing/Pulling
Up to 10 lbs
X
10lbs to 50 lbs
X
More than 50 lbs
X
Use computer/keyboard
X
Education
Required: Bachelor's degree.
Preferred: Master's degree in Public Health, Healthcare Administration, Nursing or related scientific field.
Experience
Required: Three years experience in area of research study or direct patient care obtained from nursing, data gathering or other related experience. May substitute required education degree with additional years of equivalent experience on a one to one basis.
Preferred: Research involving human subjects.
Additional Information
Requisition ID: 133890

Employment Status: Full-Time

Employee Status: Regular

FLSA: non-exempt, eligible for overtime, and is subject to the provisions of the Fair Labor Standards Act (FLSA)

Work Week: Days

Fund Type: Soft

Pivotal Position: Yes

Minimum Salary: US Dollar (USD) 50,800

Midpoint Salary: US Dollar (USD) 63,500

Maximum Salary : US Dollar (USD) 76,200

Science Jobs: No