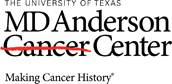 Job Information
MD Anderson Cancer Center

Cord Blood Bank Collector, Evening Shift - (Bilingual - English/Spanish)

in

Houston

,

Texas
This will be a full-time position working an evening shift. Training will occur during day time hours for the first two months and then move to a permanent placement on the evening shift.
The ideal candidate will be bi-lingual in English and Spanish.
The University of Texas MD Anderson Cancer Center in Houston is one of the world's most respected centers focused on cancer patient care, research, education and prevention. It was named the nation's No. 1 hospital for cancer care in U.S. News & World Report's 2019 rankings. It is one of the nation's original three comprehensive cancer centers designated by the National Cancer Institute.
The primary purpose of the Cord Blood Bank Collector position is to educate and recruit potential donor mothers to the public cord blood donation program, collect relevant behavioral and medical history information, facilitate collection of the cord blood and ensure timely transport of the blood products to the processing laboratory. This role also has responsibility for quality control of supplies and reagents necessary for performing the cord blood collection activities.
KEY FUNCTIONS
Communication, Education, Recruitment and Donor Suitability
1) Promote, educate and recruit potential donor mothers: through explanation of the cord blood donation program to expectant mothers and participation in hospital programs directed towards pregnant mothers Perform initial screen to identify suitable potential cord blood donor mothers
a. Explain the donation program.
b. Obtain informed consent from all potential cord blood donor mothers for the collection, testing and use of the cord blood.
c. Evaluate donors for suitability to donate infant's cord blood
d. Interview donor mothers to obtain answers to a standard questionnaire designed to elicit behavioral risk factors, medical and travel history information of the donor mother and infant's immediate family.
2) Communication and with potential donor mothers/families, hospital staff and team members
a. Participate in the education of hospital staff
b. Train obstetricians in the in-utero collection technique, including retraining as required, and monitoring of competency on an annual basis.
c. Must have excellent verbal communication skills
Product, Samples and Records Management
1) Responsible for the collection of cord blood and maternal blood samples using aseptic techniques
a. Collect cord blood ex-utero in the dedicated collection room
b. Assist and/or prepare the supplies for the obstetricians performing in-utero collections
c. Collect and/or facilitate drawing of maternal blood samples
2) Prepare the cord blood donations, maternal samples and paperwork for transportation to the Cord Blood Bank on pre-arranged schedule
3) Utilize various computer systems and databases to enter data and complete donor mother and donor infant records.
4) Review hospital charts.
5) Must have good organizational skills
6) Must pay attention to detail.
7) Must have good writing skills.
Quality Control
1) Perform procedures and maintain accurate documentation in compliance with current Good Laboratory Practice, current Good Manufacturing Practice and current Good Tissue Practice regulations and applicable accreditation agency standards, including but not limited to FACT-NetCord, CAP and CLIA
2) Participate in the daily functions of the CBB collection room, including data and records management, inventory management, ordering and logging of supplies an
reagents, cleaning, temperature monitoring, ancillary office and administrative functions.
3) Responsible for the quality control and documentation of all equipment, reagents and supplies that are used for cord blood collection.
4) Document deviations and events; notify technical and quality management personnel in timely manner and assist in the investigation of the cause and any required corrective actions
EDUCATION
Required: Bachelor's degree.
EXPERIENCE
Required: None. May substitute required education degree with additional years of equivalent experience on a one to one basis.
Preferred: Experience in a patient care environment. The ideal candidate will be available to attend training during day time hours for the first two months and then move to a permanent placement on the evening shift. Bi-lingual in English and Spanish.
OTHER
Required: A national background search and an expanded drug screening (including additional testing for barbiturates, benzodiazepines, and methadone) are required for an applicant to be eligible for this position.
It is the policy of The University of Texas MD Anderson Cancer Center to provide equal employment opportunity without regard to race, color, religion, age, national origin, sex, gender, sexual orientation, gender identity/expression, disability, protected veteran status, genetic information, or any other basis protected by institutional policy or by federal, state or local laws unless such distinction is required by law. http://www.mdanderson.org/about-us/legal-and-policy/legal-statements/eeo-affirmative-action.html
Additional Information
Requisition ID: 150705

Employment Status: Full-Time

Employee Status: Regular

FLSA: exempt and eligible for additional compensation for hours worked beyond your usual schedule, paid at a time and a half rate

Work Week: Evening/Night, Evenings

Fund Type: Soft

Work Location: Onsite

Pivotal Position: Yes

Minimum Salary: US Dollar (USD) 39,500

Midpoint Salary: US Dollar (USD) 49,500

Maximum Salary : US Dollar (USD) 59,500

Science Jobs: No