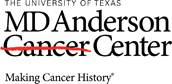 Job Information
MD Anderson Cancer Center

Institute Research Investigator - Cell Pharmacology

in

Houston

,

Texas
The mission of The University of Texas M. D. Anderson Cancer Center is to eliminate cancer in Texas, the nation and the world through outstanding programs that integrate patient care, research and prevention, and through education for undergraduate and graduate students, trainees, professionals, employees and the public.
MD Anderson is known for providing cancer patients with exceptional care, which includes early access to innovative new treatments through clinical trials. The Institute for Applied Cancer Science (IACS) is a new hybrid model that uniquely combines the drug discovery capabilities of the biopharmaceutical industry and the extensive knowledge of biology found in academia with the expertise of MD Anderson's top clinicians. IACS has the singular goal of rapidly developing novel, effective and safe therapeutics that improve patient health. IACS executes programs with the highest probability of clinical success in a rigorous, goal-oriented, data-driven manner.
The Institute Research Investigator, Cell Pharmacology, participates in cross-functional research to discover novel oncology therapeutic agents that benefit patients. He/She will be a highly creative molecular and cellular pharmacologist with a strong desire to succeed at the highest level. Responsibilities include performing in vitro and ex-vivo research (using cells and tumor tissues) to support discovery and development of novel oncology drugs. He/She will design, plan and conduct advanced cell-based assays to validate hypotheses, understand drug mechanisms of action, predict response to anti-cancer drugs, and correlate these responses to pathway modulation. By liaising with other members of the cross-functional project team, this individual will play a key role preparingproposals for validating, optimizing and implementing physiologically relevant cellular systems to support preclinical development of IACS drug discovery programs.
KEY FUNCTIONS
Apply state-of-the-art technologies to design, plan and conduct advanced cell-based assays (2D, 3D, and multi-cellular) to validate hypotheses, characterize mechanisms of drug action, predict response to anti-cancer drugs, explore drug and/or immune therapy combinations, and support IACS' drug discovery programs

Draw up proposals and deploy ex-vivo tumor culture systems for functional drug testing and perform assays using multiple platforms, analyze data, monitor assay quality, troubleshoot, and release data to project team groups.

Maintain a high level of professional expertise through familiarity with new technologies for cell pharmacology studies. Demonstrate hands-on experience with tissue culture techniques, signal transduction methodologies, immunocytochemistry and immunohistochemistry (ICC/IHC) staining, flow cytometry, Nanostring, qRT-PCR, Western-blot, ELISA, AlphaLisa technologies. Knowledge of tumor derived organoid maintenance, ex-vivo cultures of tumor slice (EVOC: ex-vivo organ culture), as well as other complex cellular systems technologies is highly desirable.

Cross-train and assist team members to maintain the group's high productivity and mitigate risk.

Keep up with the scientific literature and actively participate in the project team meetings.

Work closely with project teams to conduct cell pharmacology assays, write reports and other documents in support of regulatory filings (i.e. IND filings).

Work with collaborators and contract research organizations to execute, acquire, transfer and validate cell based assays.

Maintain a detailed and well-organized notebook.

Ensure data integrity and compliance under MD Anderson policies.

Employ safe lab practices.
CORE COMPETENCIES
Self-Motivation (Transitional): Set high standards of performance; pursue goals with energy and persistence; drive for results and achievement.
Demonstrate a personal sense of urgency in getting results. Use personal and management standards to complete assignments.

Seek to influence standards with proven business practices. Improve own performance by making specific changes in system or work methods.
Self-Adaptability (Transitional): Work in situations involving uncertainty, shifting priorities, and rapid change; deal constructively with mistakes and setbacks; demonstrate flexibility.
Help coworkers with tasks as necessary. Smoothly handle multiple demands, shifting priorities and rapid change. Persist despite obstacles.

Change own immediate behavior or approach to suit the situation. Remain open-minded and adjust approach on basis of new information.
Technical/Functional Expertise (Independent Contributor): Demonstrate technical proficiency required to do the job; possess up-to-date knowledge in the profession; provide technical expertise to others.
Apply basic technical/functional knowledge to complete work. Meet essential position requirements.

Seek experiences and knowledge in technical/functional areas to gain additional expertise. Troubleshoot systems/processes effectively.
Analytical Thinking (Transitional): Gather relevant information systematically; break down problems into simple components; make sound decisions.
Identify relationships among a few parts of a problem. Scan own knowledge and experience base to determine potential solutions.

See multiple relationships among several parts of a problem. Recognize likely causes of events or consequences of actions. Use data from multiple sources to support assumptions.
Team with Others (Independent Contributor): Encourage collaboration and input from all team members; value the contributions of all team members, and those beyond team; balance individual and team goals.
Support and show respect to team members. Recognize how individual actions affect the team.

Model team qualities, i.e. respect helpfulness and coping. Support team decisions once they are made and help to implement.
Working Conditions
Office environment
This position requires:
Working in Office Environment
__No
_X Yes
Working in Patient Care Unit (e.g. Nursing unit; outpatient clinic)
X No
__ Yes
Exposure to human/animal blood, body fluids, or tissues
XNo
__ _ Yes
Exposure to harmful chemicals
XNo
_ Yes
Exposure to radiation
X No
__ Yes
Physical Demands
Indicate the time required to do each of the following physical demands:
Time Spent
Never
0%
Occasionally
1-33%
Frequently
34-66%
Continuously
67-100%
Standing
Walking
Sitting
Reaching
Lifting/Carrying
Up to 10 lbs
10lbs to 50 lbs
More than 50 lbs
Pushing/Pulling
Up to 10 lbs
10lbs to 50 lbs
More than 50 lbs
Use computer/keyboard
EDUCATION:
Required: Bachelor's degree in biology, biochemistry, molecular biology, cell biology, enzymology, pharmacology, chemistry or related field.
Preferred: PhD in cancer biology, pharmacology or a related scientific discipline.
EXPERIENCE:
Required: Six years experience of relevant research experience in laboratory. With Master's degree, four years of required experience. With a PhD in a natural science or Medical degree, no experience required.
Preferred: Relevant industrial experience within the pharmaceutical or biotech industry or equivalent, or post-doc training.
The ideal candidate will have a PhD in relevant field (cell biology, pharmacology, or cancer biology), post-doctoral experience in related area, and drug discovery experience acquired within the pharmaceutical or biotech industry or equivalent. Hands-on experience with cell based assay development, validation, and implementation. Tissue culture (cell/co-cultures/organoid) protocols, tissue slice preparation experience. Expertise in signal transduction pathways, immunocytochemistry and/or immunohistochemistry (ICC/IHC) staining, flow cytometry, Nanostring, qRT-PCR, Western-blot, ELISA, AlphaLisa technologies is highly desirable. Experience in mentoring other scientists. Must be a team player, respectful of others, and have strong interpersonal and communication skills. Motivated, take initiative, and have the ability to work independently and effectively in a highly dynamic, fast-paced environment.
It is the policy of The University of Texas MD Anderson Cancer Center to provide equal employment opportunity without regard to race, color, religion, age, national origin, sex, gender, sexual orientation, gender identity/expression, disability, protected veteran status, genetic information, or any other basis protected by institutional policy or by federal, state or local laws unless such distinction is required by law. http://www.mdanderson.org/about-us/legal-and-policy/legal-statements/eeo-affirmative-action.html
Additional Information
Requisition ID: 146297

Employment Status: Full-Time

Employee Status: Regular

FLSA: exempt and not eligible for overtime pay

Work Week: Days

Fund Type: Soft

Remote Work: Onsite

Pivotal Position: Yes

Minimum Salary: US Dollar (USD) 88,000

Midpoint Salary: US Dollar (USD) 110,000

Maximum Salary : US Dollar (USD) 132,000

Science Jobs: Yes