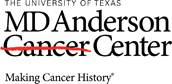 Job Information
MD Anderson Cancer Center

Institute Research Scientist - Cell Biology

in

Houston

,

Texas
MD ANDERSON THERAPEUTICS DISCOVERY DIVISION
Within The University of Texas MD Anderson Cancer Center lies a powerful engine driving the future of new targeted, immune- and cell-based therapies: the Therapeutics Discovery Division. Therapeutics Discovery eliminates the bottlenecks that hamper traditional drug discovery, with a multidisciplinary team of dedicated researchers, doctors, drug developers and scientific experts working together to develop small-molecule drugs, biologics and cellular therapies. Our unique structure and collaborative approach allow the team to work with agility, bringing novel medicines from concept to clinic quickly and efficiently - all under the same roof.
The Therapeutics Discovery Division is built around four platforms: The Institute for Applied Cancer Science (IACS), ORBIT (Oncology Research for Biologics and Immunotherapy Translation), TRACTION (Translational Research to Advance Therapeutics and Innovation in Oncology) and the Neurodegeneration Consortium.
The TRACTION platform is an industrialized translational research unit that aligns world-class drug discovery and development with highly innovative science and clinical care research. Through an investment in patient-centric research, we have developed the infrastructure, platforms, and capabilities to enable transformative research, partnering with leading clinical research scientists and physicians for which MD Anderson is known. TRACTION's approach combines large scale data science, innovative cancer genetics, disruptive technologies, deep mechanistic biology, disease modeling, and pharmacology to accelerate the translation of novel discoveries.
As part of our mission, TRACTION is focused on partnering with our internal drug discovery engine (IACS, ORBIT, Biologics Development and Cell Therapies) and a growing list of external Partners (Boehringer Ingelheim, Taiho, Blueprint Medicines, Schrödinger and Obsidian) to discover and develop the next generation of small-molecule targeted therapies, antibody therapeutics and cell therapies, all driven by the needs we see in our patients.
We work in a fast-paced, milestone-driven environment with a focus on team science and interdisciplinary research. Our unique approach has created a biotech-like engine within the walls of the nation's leading cancer center to bring life-saving medicines to our patients more quickly and effectively. This model already has achieved results, with multiple programs currently in clinical and late-stage preclinical development.
We are currently seeking a highly motivated and talented Research Scientist to join our Reverse Translation group. With the deployment of advanced analytics, the group leverages unprecedented large-scale data science to provide insights and hypothesis that are rapidly functionally validated. We combine disruptive technologies and disease modelling to guide highly innovative science that leads to novel therapeutics, drug repurposing, novel combination or biomarker strategies that are quickly evaluated in the clinic. With this systematic, rapid and industrialize reverse translation engine, we accelerate the discovery of transformative therapies and fuel prospective clinical trials to change standard-of-care (SOC) for unmet medical needs.
The Research Scientist will be a key team member in the organization developing and leading research strategies to advance projects from target validation through preclinical development to clinical proof-of-concept studies, working closely with the data science team.
Building on our unique model of drug discovery, the Research Scientist will deploy state-of-the-art disease modeling, genetic and pharmacological approaches to integrate innovative biology with clinical research data to select and validate new target hypotheses, and position drug candidates for clinical success.
By joining the TRACTION and the Therapeutics Discovery Division, you have the opportunity to use your talents to make a direct impact on the lives of our patients. Join us, and lead our next program from concept to clinic.
KEY FUNCTIONS:
Independently applies and develops target and translational biology research activities on multiple discovery projects, delivering compelling validation packages and translational data to advance programs into clinical proof-of-concept trials in defined patient populations.

Independently design, execute, analyze and interpret in vitro, ex vivo and in vivo experiments to validate novel therapeutic targets, inform on target mechanism of action, and explore translational hypotheses.

Work closely with the data science team presenting and interpreting research findings to refine the experimental strategy.

Deploy cutting-edge tools and technologies to develop in vitro and in vivo advanced cancer modeling, e.g. generation of isogenic cell lines, creation of somatic GEMM models, engineering of drug resistance mechanisms and unprecedented oncogenic drivers.

Independently proposes and leads innovative solutions to advance research projects.

Deploy functional genomics (e.g. CRISPR/RNAi screens, CROP-Seq/Perturb-Seq) to enable novel targets identification and deep functional characterization of relevant tumor contexts.

Proactively identify, evaluate and implement novel technologies to drive research discoveries and innovation.

Apply knowledge of pharmacology and biomarker development to enable in vivo assessment of chemical matter and establish pharmacokinetic, pharmacodynamic, and efficacy relationships.

Contribute to project team through lab-based activities.

Develop and lead strong collaborative relationships with internal and external groups.

Interpret, present, and report research findings at internal meetings and external scientific conferences.

Provide mentorship, professional development, guidance and leadership to dedicated research and associate scientists.
EDUCATION:
Required: Master's degree in biology, biochemistry, molecular biology, cell biology, enzymology, pharmacology, chemistry or related field.
Preferred: PhD, MD or equivalent degree in Biology, Cell Biology, Pharmacology or related field.
EXPERIENCE:
Required: Six years experience of relevant research experience in laboratory. With a PhD in a natural science or Medical degree, two years of required experience.
Preferred: 3 years of relevant research and management experience beyond post-doctoral research maintaining hands-on experience. Industry R&D experience is preferred.
Demonstrated ability to lead independently research activities. Experience advancing novel program from discovery into clinical development is preferred.

Extensive knowledge in cancer biology including cell signaling, metabolism, epigenetics, and immune-oncology.

Experience using genetic (e.g. RNAi, CRISPR-Cas9, cDNAs) and pharmacological (e.g. small molecule inhibitors or antibodies) approaches to study target biology and biomarker validation is essential.

Experience with characterization of tumor biology of in vivo models including subcutaneous and orthotopic xenografts or genetically engineered models of cancer.

Deep understanding of preclinical PK/PD/efficacy relationships as they relate to small molecule drug discovery in oncology; translation of findings to the clinic.

Knowledge of preclinical and clinical biomarker discovery and development.

Demonstrated ability to plan research activities and timelines.

Experience working in highly matrixed organization.

Ability to work well under pressure and drive projects that impact critical timelines is essential.

Outstanding written and oral communication skills are essential.

A collaborative attitude is essential for this position.
It is the policy of The University of Texas MD Anderson Cancer Center to provide equal employment opportunity without regard to race, color, religion, age, national origin, sex, gender, sexual orientation, gender identity/expression, disability, protected veteran status, genetic information, or any other basis protected by institutional policy or by federal, state or local laws unless such distinction is required by law. http://www.mdanderson.org/about-us/legal-and-policy/legal-statements/eeo-affirmative-action.html
Additional Information
Requisition ID: 158029

Employment Status: Full-Time

Employee Status: Regular

Work Week: Days

Minimum Salary: US Dollar (USD) 112,000

Midpoint Salary: US Dollar (USD) 140,000

Maximum Salary : US Dollar (USD) 168,000

FLSA: exempt and not eligible for overtime pay

Fund Type: Soft

Work Location: Onsite

Pivotal Position: Yes

Referral Bonus Available?: Yes

Relocation Assistance Available?: Yes

Science Jobs: Yes
#LI-Onsite