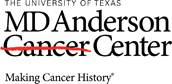 Job Information
MD Anderson Cancer Center

Institute Senior Research Scientist

in

Houston

,

Texas
MD ANDERSON THERAPEUTICS DISCOVERY DIVISION
Within The University of Texas MD Anderson Cancer Center lies a powerful engine driving the future of new targeted, immune- and cell-based therapies: the Therapeutics Discovery Division. Therapeutics Discovery eliminates the bottlenecks that hamper traditional drug discovery, with a multidisciplinary team of dedicated researchers, doctors, drug developers and scientific experts working together to develop small-molecule drugs, biologics and cellular therapies. Our unique structure and collaborative approach allow the team to work with agility, bringing novel medicines from concept to clinic quickly and efficiently - all under the same roof.
The Therapeutics Discovery Division is built around four platforms: The Institute for Applied Cancer Science (IACS), ORBIT (Oncology Research for Biologics and Immunotherapy Translation), TRACTION (Translational Research to Advance Therapeutics and Innovation in Oncology) and the Neurodegeneration Consortium.
The IACS platform is focused on discovering and developing the next generation of small-molecule targeted therapies, driven by the needs we see in our patients. The team aligns world-class drug discovery and development research with the science and clinical care for which MD Anderson is known. We work in a fast-paced, milestone-driven environment with a focus on team science and interdisciplinary research. Our unique approach has created a biotech-like engine within the walls of the nation's leading cancer center to bring life-saving medicines to our patients more quickly and effectively. This model already has achieved results, with multiple programs currently in clinical and late-stage preclinical development.
The Institute Senior Research Scientist will develop and execute program strategies, including the development of appropriate in vitro assay funnels, for multidisciplinary drug discovery projects. This senior IACS member will use their critical thinking, technical, and strategic skills to enable innovative first-in-class drug discovery programs across multiple target classes and rapidly drive them into the clinic. Their passion for using innovative approaches to problem-solving and their biochemical and biophysical expertise will enable them to identify lead molecules, evaluate structure-activity relationships, and dive deep into understanding the mechanism of action. Additionally, this scientist will have the opportunity to expand our biochemical and biophysical capabilities. These efforts will allow us to advance novel therapeutics currently under development by our Therapeutics Discovery teams and partners as well as initiate new programs.
By joining the Therapeutics Discovery Division, you have the opportunity to use your talents to make a direct impact on the lives of our patients. We are seeking a highly motivated and collaborative individual to become a part of our team. Ideal candidates will have experience with a wide variety of protein targets in a drug discovery setting and a demonstrated track record in the development and implementation of biochemical and biophysical assays for compound screening and mechanistic studies using a variety of detection formats.
JOB SPECIFIC COMPETENCIES
Coordinate the application and development of cutting edge biochemical and biophysical tools and methodologies to enable advancement of Institute projects through leadership and experimental activities.

Analyze data generated by various biochemical and biophysical studies and leverage results for the design of future studies.

Lead the development of biochemical and biophysical screening strategies for multiple small molecule drug discovery programs, as well as mechanism of action studies.

Contribute to project teams through lab-based activities, developing and implementing biochemical and biophysical assays for target validation, hit identification and confirmation, lead optimization, and mechanism of action studies. Techniques include fluorescence polarization, FRET/TR-FRET, SPR, ITC, DSF, RF-MS, MST, etc...

Develop advanced technical ideas in the areas of biochemistry and biophysics and lead development and implementation.

Collaborate with internal and external scientists across functional areas to plan and execute the strategy for multiple small molecule drug discovery programs.

Manage research staff by assisting with technical issues, setting priorities and expectations, and actively supporting their development.

Employ safe lab practices.

Maintain clear research records and laboratory notes.
EDUCATION:
Required: Master's degree in Biology, Biochemistry, molecular biology, cell biology, enzymology, pharmacology, chemistry or related field.
Preferred: PhD in one of the natural sciences or related field or Medical degree.
EXPERIENCE:
Required: Eight years experience of relevant research experience in lab. With preferred degree, three years of required experience.
Preferred: Relevant pharmaceutical/biotech experience. Experience with leading small molecule drug discovery project teams and managing junior scientists. Proven track record of applying biochemical and biophysical techniques to small molecule drug discovery projects to drive critical decisions. Familiarity with cell-based assays would be beneficial.
It is the policy of The University of Texas MD Anderson Cancer Center to provide equal employment opportunity without regard to race, color, religion, age, national origin, sex, gender, sexual orientation, gender identity/expression, disability, protected veteran status, genetic information, or any other basis protected by institutional policy or by federal, state or local laws unless such distinction is required by law. http://www.mdanderson.org/about-us/legal-and-policy/legal-statements/eeo-affirmative-action.html
Additional Information
Requisition ID: 151066

Employment Status: Full-Time

Employee Status: Regular

FLSA: exempt and not eligible for overtime pay

Work Week: Days

Fund Type: Soft

Work Location: Onsite

Pivotal Position: Yes

Minimum Salary: US Dollar (USD) 116,000

Midpoint Salary: US Dollar (USD) 145,000

Maximum Salary : US Dollar (USD) 174,000

Science Jobs: Yes