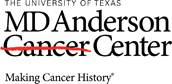 Job Information
MD Anderson Cancer Center

Nurse Manager - Lymphoma/Myeloma Center

in

Houston

,

Texas
Summary
The primary purpose of the Nurse Manager position is to provide clinical leadership for the Lymphoma/ Myeloma Clinic and professional support for the delivery of clinical services, the competency and performance of clinical and clerical staff and for operationalizing systems to support multidisciplinary team functioning in an environment of change.
Nurse Manager opportunity in Lymphoma/Myeloma Center. Ideal candidate will have a Master's degree in nursing and five years of professional nursing experience, to include one year of supervisory experience in direct patient care activities
Prefer candidates with at least one to two years of experience as an Assistant Nurse Manager or supervisor and have a certification in oncology or specialty practice area.
Shift: Monday - Friday 8am-5pm (typically may vary based on business need)
Key Functions
Clinical
Ensures adherence to the Nurse Practice Act of the State of Texas, institutional standards of nursing care, and institutional policies and procedures.
Adheres to and monitors compliance of Food and Drug Administration (FDA), and other regulatory agency guidelines as recognized by the institution, i.e., Joint Commission for the Accreditation of Healthcare Organizations (JCHAO) and Magnet Nursing Services Recognition (Magnet).
Actively participates in QI process as a monitoring officer to assure SOPs are current and are modified and updated as mandated. In conjunction with the institutional interdisciplinary team works to implement performance improvement processes and to measure outcomes of these processes using the Plan, Do, Check, Act (PDCA) PI (Performance Improvement) process.
As delegated by the CAD: assures coordination, effectiveness and efficiency of nursing care delivery system and ensures smooth flow of services.
Administrative
Accepts responsibility for selection, direction and evaluation of staff, and participates in creating performance standards. Oversees education of staff in collaboration with Lymphoma/Myeloma educator and CAD.
Role models and monitors quality of care, improvement of services, professional nursing practice, cooperation, commitment, and efficiency of the use of facilities and resources as assigned. Monitors staffing of the Lymphoma Clinic, Fast Track and Procedure Clinic and Saturday Fast Track clinic. Mentors staff as appropriate.
Participates in weekly Lymphoma Center Operations meetings with Clinical Administrative Director, Clinical Business Manager, Business Center Supervisor, Center Medical Director, and Assistant Nurse Manager. Implements actions to achieve goals, objectives and operational plans of the Center.
Maintains clinical expertise and, as necessary carries out those nursing duties required by the particular Center and its patient population. Maintains and updates management skills. Monitors special projects of staff; provides instruction and guidance in at timely manner. Also provides follow up on projects to CAD. Completes assignments and projects within allotted time frame.
Collaborates with inpatient management team regarding the smooth transition of patients to inpatient status and works closely on bed control issues. Works closely with Administrative Coordinator re: PSC duties in Center i.e.: scheduling of appointments, tests and physician template maintenance.
Collaborates with and delegates duties to Clinical Care Coordinator to assure smooth/seamless flow in both the clinic and fast track areas. Monitors on-line consult process for timeliness of scheduling of appointments in collaboration with Lead PSC and Clinical Business Supervisor. Collaborates with Research RN Supervisor and team.
Oversees functioning of Fast Track Clinic in coordination with CAD. Collaborates with Nurse Manager in ATC re: Care of Lymphoma/Myeloma patients.
Participates in Process Improvement projects and oversees staff participation for completion. Monitors and reports outcomes monthly to quarterly to CAD and Management Team i.e. : MyMDA, EOS, OMRR, etc.
Monitors monthly patient satisfaction surveys, review results and plan of improvement with Clinical Administrative Director. Participates in institutional meetings, committee efforts and task forces as assigned. Responsible for completing any special projects and other duties assigned by Clinical Administrative Director.
Financial
Financial responsibilities include participation in budget preparation. In collaboration with the Clinical Business Manager preparation of monthly reports on variances to the budget and presents to Clinical Administrative Director. Proactively seeks opportunities to increase revenue collections and decrease operating costs in collaboration with Clinical Business Manager.
Communicates/collaborates with Business Center Supervisor to assure smooth/seamless clinic flow between clinical and financial aspects of the center and smooth transition of new patients to the center.
Oral & Written
Use organizational skills to assure continuity of care in collaboration with other disciplines through appropriate planning, education and coordination of services.
Other duties as assigned.
EDUCATION:
Required: Bachelor's degree in Nursing.
Preferred: Master's Degree in Nursing or related field
EXPERIENCE:
Required: Five years of professional nursing experience, to include one year of supervisory experience in direct patient care activities. Successful completion of the LEADing Self Accelerate program may substitute for one year of required supervisory or management.
Preferred:
LICENSURE/CERTIFICATION:
Required: Current State of Texas Professional Nursing license (RN). Basic Life Support (BLS) or Cardiopulmonary Resuscitation (CPR) certification.
Preferred: American Heart Association Basic Life Support (BLS), ACLS (Advanced Cardiac Life Support) or PALS (Pediatric Advanced Life Support) certification as required by patient care area. Certification in oncology or specialty practice area.
It is the policy of The University of Texas MD Anderson Cancer Center to provide equal employment opportunity without regard to race, color, religion, age, national origin, sex, gender, sexual orientation, gender identity/expression, disability, protected veteran status, genetic information, or any other basis protected by institutional policy or by federal, state or local laws unless such distinction is required by law. http://www.mdanderson.org/about-us/legal-and-policy/legal-statements/eeo-affirmative-action.html
Working Conditions
This position requires:
Working in Office Environment
__ No
_ X _ Yes
Working in Patient Care Unit (e.g. Nursing unit; outpatient clinic)
__ No
_ X _ Yes
Exposure to human/animal blood, body fluids, or tissues
__ No
_ X _ Yes
Exposure to harmful chemicals
__ No
_ X _ Yes
Exposure to radiation
_ X _ No
__ Yes
Exposure to animals
_ X _ No
__ Yes
Physical Demands
Indicate the time required to do each of the following physical demands:
Time Spent
Never
0%
Occasionally
1-33%
Frequently
34-66%
Continuously
67-100%
Standing
X
Walking
X
Sitting
X
Reaching
X
Lifting/Carrying
Up to 10 lbs
X
10lbs to 50 lbs
X
More than 50 lbs
X
Pushing/Pulling
Up to 10 lbs
X
10lbs to 50 lbs
X
More than 50 lbs
X
Use computer/keyboard
X
Additional Information
Requisition ID: 140469

Employment Status: Full-Time

Employee Status: Regular

FLSA: exempt and eligible for additional compensation for hours worked beyond your usual schedule, paid at a straight rate

Work Week: Day/Evening

Fund Type: Hard

Pivotal Position: Yes

Minimum Salary: US Dollar (USD) 102,400

Midpoint Salary: US Dollar (USD) 129,000

Maximum Salary : US Dollar (USD) 155,600

Science Jobs: No