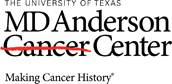 Job Information
MD Anderson Cancer Center

Postdoc - Radiation Physics (The Sawakuchi Lab)

in

Houston

,

Texas
A Postdoctoral Fellow position is available in the Department of Radiation Physics under the director's supervision of Gabriel Sawakuchi, PhD. The Sawakuchi Lab research is at the interface of radiobiology, DNA repair, and immunology and currently focuses on understanding how radiation-induced DNA damage and repair can be leveraged to radiosensitize tumors and activate the immune system to combat cancer. We study how different forms of clinical radiation, including photons, protons, carbon ions, and alpha particles, modulate oxidative stress, metabolism, DNA damage, DNA repair, and immune activation.
LEARNING OBJECTIVES
The postdoctoral fellow will participate in NIH, DoD, and industry funded projects to obtain specific scientific knowledge in the research field of his/her topic. The postdoctoral fellow will also have opportunities to learn scientific writing of manuscripts and grants, learn how to mentor students, and learn how to become an independent investigator.
ELIGIBILITY REQUIREMENTS
Ideal candidates should have finished their Ph.D. degree in radiobiology, immunology, biology,
biochemistry, biomedical sciences, or similar research fields. Experience with small animal handling,
immunology, and DNA damage assays is highly desired but not a requirement. Good verbal and
written communication skills are also important. The individual is expected to work within a large group
of motivated interdisciplinary researchers, including clinicians, postdoctoral fellows, and other research.
ADDITIONAL APPLICATION INFORMATION
Start as soon as possible. The appointment is for one year with the possibility of renewing for more years depending on performance
FACULTY MENTOR
Gabriel Sawakuchi, PhD