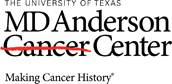 Job Information
MD Anderson Cancer Center

Postdoctoral Fellow - IGCT T32 Training Program

in

Houston

,

Texas
The Image Guided Cancer Therapy (IGCT) T32 Training Program at MD Anderson Cancer Center is currently recruiting clinician scientists and scientists for open postdoctoral fellow positions in image-guided cancer therapy research.
The IGCT T32 Training Program provides immersive, multi-disciplinary research training in the field of image guided cancer therapy, including surgery, interventional and diagnostic radiology, radiation oncology, imaging, and correlative pathology, guided by world-renowned research mentors who direct high impact translational projects. Trainees will engage in clinical shadowing with IGCT T32 faculty in key areas of image guided cancer therapy to gain perspectives from a broad range of research and clinical expertise. The program features cross-disciplinary mentoring and support from established clinician scientists and investigators, who will work with you to develop personalized goals and an adaptable training plan to fit your career goals. Guided mentoring and support in grant writing will help trainees to write and submit for independent funding to help prepare for the faculty phases of their careers.
LEARNING OBJECTIVES
The primary goal of this T32 is to provide multi-disciplinary research training for clinician-scientists and scientists in the field of image guided cancer therapy.
Trainees will engage in hands-on multi-disciplinary research in one or more facets of the field of image guided cancer therapy (e.g., surgery, radiation oncology, interventional or diagnostic radiology, correlative pathology, imaging, etc.). They will gain clinical perspectives from a wide array of experts across modalities and anatomical sites through didactic learning, seminars, and clinical shadowing. Trainees will work with their unique cross-disciplinary faculty mentoring teams to establish and follow a personalized and adaptable training plan catered to their specific career goals. Trainees will also receive mentorship and support in writing and submitting independent grant applications (e.g., NIH K awards) that will help prepare them for future faculty positions. This program is two years in length.
ELIGIBILITY REQUIREMENTS
Have completed an MD, PhD, or MD/PhD (or equivalent; within three (3) years of degree completion or completion of a clinical residency program). Have a strong desire and interest to pursue research in image guided cancer therapies (any area). Hold United States citizenship or permanent residency (as required by the National Institute of Health).
ADDITIONAL APPLICATION INFORMATION
The following documents must be uploaded to the application: CV, Research/Interest Statement (2-page limit), Adversity/Diversity statement (2-page limit), and provide 3 references.
Please visit the IGCT T32 website for more information: https://www.mdanderson.org/education-training/clinical-research-training/postdoctoral-training/postdoctoral-fellowships/igct-t32-training-program.html.
POSITION INFORMATION
MD Anderson follows the NIH stipend levels as outlined by the Kirchstein - NRSA. This full-time trainee position will provide a salary between $56,484 to $68,604, dependent upon the years of postgraduate experience.
MD Anderson offers compensated trainees:
Paid medical benefits (zero premium) starting on first day for trainees who work 30 or more hours per week

Group Dental, Vision, Life, AD&D and Disability coverage

Paid Education Vacation and Sick Leave

Paid institutional holidays, wellness leave, childcare leave and other paid leave programs

Teachers Retirement System defined-benefit pension plan and two voluntary retirement plans

Employer paid life, AD&D and an illness-related reduced salary pay program

Health Savings Account and Dependent Care Reimbursement flexible spending accounts

Fertility benefits

State of Texas longevity pay

Extensive wellness, fitness, employee health programs and employee resource groups