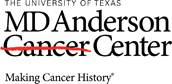 Job Information
MD Anderson Cancer Center

Postdoctoral Fellow - Immunology

in

Houston

,

Texas
A postdoctoral fellow position is available in Department of Immunology at MD Anderson Cancer Center, Houston, TX. The focus of the research project is understanding the basis of vaccine induced CD4+ T cell and CD8+ T cell recognition of tumor antigens in the context of a dynamic tumor microenvironment and development of improved cancer treatments. This project will primarily utilize preclinical models along with high dimensional analyses approaches such as mass cytometry by CyTOF and single-cell RNA sequencing.
Successful candidates will join a collegial, dedicated group of researchers. The Department of Immunology, led by Nobel Laureate James Allison, conducts cutting-edge and diverse research using state-of-the-art tools in a highly interactive environment.
LEARNING OBJECTIVES
The successful applicant is expected to develop an in-depth understanding of cancer immunology, preclinical models, cancer vaccines, T cell responses to tumors, and high dimensional analyses approaches as well as display increasing research independence.
ELIGIBILITY REQUIREMENTS
Candidates should have a Ph.D. and/or M.D. degree or be in the process of completing Ph.D. and/or M.D. training along with a solid background in immunology, preferably with hands-on experience in cancer immunology, single cell RNA sequencing, flow cytometry, and molecular immunology.