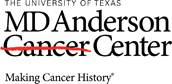 Job Information
MD Anderson Cancer Center

Postdoctoral Fellow - The Affective Neuroscience Research Lab

in

Houston

,

Texas
The Affective Neuroscience Research Laboratory of the Department of Behavioral Science at The University of Texas MD Anderson Cancer Center has an open position for a post-doctoral researcher.
This researcher will work under the supervision of Dr. Francesco Versace on projects aimed at investigating the neurobehavioral correlates of reward processes in individuals with substance use disorders and in individuals with obesity. The laboratory pursues its research objectives by using event-related potentials (ERPs), functional magnetic resonance imaging (fMRI), and transcranial magnetic stimulation (TMS).
The Department of Behavioral Science provides rich opportunities for collegial interaction and an exceptional infrastructure for neuro-behavioral translational research. The psychophysiology laboratory in the Behavioral Research and Treatment Center is equipped with dense-array EEG and magnetic stimulator systems. The Center for Advanced Biomedical Imaging houses a 3.0T Siemens MR research scanner.
LEARNING OBJECTIVES
The post-doctoral researcher will collaborate on ongoing externally funded projects and will assist the laboratory in data collection, data analyses, and result interpretation. They will contribute to grant writing and publications. They will share authorship and investigator status in a manner commensurate with their effort and responsibilities. They will receive advanced training toward the goal of becoming independent scientists and pursuing their own research interests.
ELIGIBILITY REQUIREMENTS
The ideal candidate for this position is a highly motivated individual with a solid work ethic. The ideal candidate has previous experience using ERP, TMS, or fMRI methodologies and has strong verbal and written communication skills. Candidates must have a doctoral degree in Neuroscience, Psychology, or equivalent discipline at the time of appointment.
FACULTY MENTOR
Dr. Francesco Versace