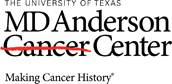 Job Information
MD Anderson Cancer Center

Postdoctoral Fellow - (The Curran Laboratory)

in

Houston

,

Texas
Postdoctoral position in basic and translational immune checkpoint biology and immunotherapy available in the lab of Dr. Michael A. Curran at the University of Texas MD Anderson Cancer Center. Dr. Curran was the first to study and report the combination of CTLA-4 and PD-1 blockade which remains the most effective clinical immunotherapy. The Curran lab studies mechanisms of immune resistance in "cold" cancers (prostate, pancreatic, glioblastoma), in particular focused on tumor hypoxia and oxygen metabolism, as well as on novel approaches to modulation of the tumor myeloid stroma. Research in the lab spans basic T cell co stimulatory biology, tumor microenvironment studies in murine models, and ongoing clinical trials and associated correlatives. The lab offers unique resources for research in mice and in man, as we have developed our own novel immune checkpoint antibodies and uniquely potent agonists of the Stimulator of Interferon Genes (STING) innate immune sensor. Prior fellows hold tenured academic professorships, scientist positions in industry, and senior positions in patient-focused immune monitoring centers.
LEARNING OBJECTIVES
Successful candidates will lead a project to integrate modulation of cold tumor metabolism and T cell / myeloid stroma to foster immune rejection of "cold" cancers. Collect and analyze data from in vitro and in vivo experiments in pre-clinical models of tumor immunology, and from primary patient tissue and blood samples. Participate/assist in manuscript writing for publication in scientific journals and/or presentations. May also assist in grant writing. Assist with lab maintenance and preparation of shared reagents.
ELIGIBILITY REQUIREMENTS
Candidates must have a recent Ph.D. degree in a related field along with lead-author publications, excellent communication skills, and the ability to work independently within a research team. Candidates who pursue an independent career path are highly preferred. Expertise in cancer immunology, murine tumor modeling, and/or tumor/immune metabolism is also desirable.
POSITION INFORMATION
MD Anderson follows the NIH stipend levels as outlined by the Kirchstein - NRSA (https://grants.nih.gov/grants/guide/notice-files/NOT-OD-23-076.html) . This full-time trainee position will provide a salary between $56,484 to $68,604, dependent upon the years of postgraduate experience.
MD Anderson offers compensated trainees:
Paid medical benefits (zero premium) starting on first day for trainees who work 30 or more hours per week

Group Dental, Vision, Life, AD&D and Disability coverage

Paid Education Vacation and Sick Leave

Paid institutional holidays, wellness leave, childcare leave and other paid leave programs

Teachers Retirement System defined-benefit pension plan and two voluntary retirement plans

Employer paid life, AD&D and an illness-related reduced salary pay program

Health Savings Account and Dependent Care Reimbursement flexible spending accounts

Fertility benefits

State of Texas longevity pay

Extensive wellness, fitness, employee health programs and employee resource groups
FACULTY MENTOR
Dr. Michael A. Curran