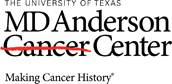 Job Information
MD Anderson Cancer Center

Postdoctoral Fellow - The Morfeus Lab

in

Houston

,

Texas
A postdoctoral fellowship position is available in the Department of Imaging Physics in the laboratory of Kristy Brock, Ph.D.
The Morfeus Lab at MD Anderson ( https://www.mdanderson.org/research/departments-labs-institutes/labs/morfeus-laboratory.html) is led by Dr. Kristy Brock. Our research is focused on the development and application of deformable image registration algorithms, artificial intelligence (AI) algorithms, biomechanical modeling, and image guided cancer therapy technologies for strategic research collaborations and clinical translation. Our lab is a highly collaborative research training environment in a state-of-the-art imaging facility and world class resources. Ongoing projects seeking postdocs include:
1) Image-guided liver surgery
2) Image-guided head and neck surgery
3) Cancer risk assessment and outcomes prediction using artificial intelligence
4) Validating in vivo imaging signals using correlative pathology
5) Image-guided focal liver ablation
6) Dose accumulation for personalized adaptive radiation therapy
LEARNING OBJECTIVES
This postdoctoral fellow will engage in computational research projects in image guided cancer therapy, including research, design, and implementation of deformable image registration, biomechanical modeling, and artificial intelligence technologies. The fellow will expand their knowledge and skills in imaging physics, data mining, predictive modeling, clustering, and classification and will develop, train, and apply deep learning in large data environments. The fellow will help to guide research and clinical collaborations and work with collaborators to integrate image guided cancer therapy models and technologies into the clinical workflow. They will collaborate and coordinate with research and clinical stakeholders and communicate findings via abstracts, poster and podium presentations, and publications.
ELIGIBILITY REQUIREMENTS
Applicants should have earned a PhD in one of the natural sciences, computer sciences, engineering, or related fields or a medical degree. Experience with machine learning and deep learning techniques, statistical modeling, biomechanical modeling, or image registration and analysis is preferred.
FACULTY MENTOR
Dr. Kristy Brock