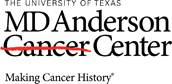 Job Information
MD Anderson Cancer Center

Postdoctoral Fellow - Translational breast cancer research

in

Houston

,

Texas
Postdoctoral research fellow to carry out studies in translational breast cancer research. The laboratory focuses on identifying alterations with functional significance to the development and progression of breast cancer and translating results from basic, omic, and preclinical studies into improved clinical interventions for cancer patients.
A major effort is directed towards elucidating the contribution made by heterogeneity (genomic, phenotypic, spatial, and compositional) in both the tumor and its microenvironment to cancer progression and response to therapy. Technologies include single-cell RNA sequencing, ATAC-Seq, and imaging mass cytometry (IMC). Experimental
models include human tumor tissue, PDX models of breast cancer, and engineered mouse models.
LEARNING OBJECTIVES
The trainee will engage in research in breast cancer metastasis and will gain experience in single-cell RNA sequencing and corresponding analysis, functional screens performed in vitro and in vivo, and working with animal models of breast cancer.
ELIGIBILITY REQUIREMENTS
Applicants must have a recent Ph.D. (or equivalent) with experience in cancer genomics, cell biology, biochemistry, genetics, or related fields. Applicants must have at least one first-author publication in a high-quality journal as well as a high level of written and oral communication skills in English. Experience working with mice is preferred.
ADDITIONAL APPLICATION INFORMATION
Interested applicants should submit a cover letter specifying past accomplishments, a curriculum vitae, and three references