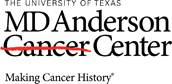 Job Information
MD Anderson Cancer Center

Postdoctoral Fellow

in

Houston

,

Texas
We seek a talented and highly motivated Postdoctoral Fellow to perform hands-on experiments performing in vitro and in vivo experiments to characterize the function and efficacy of a novel kinase inhibitor in the treatment of ovarian granulosa cell cancer. This is a rare cancer type with few effective treatment options, and this project will be crucial for the pre-clinical evaluation of a promising novel therapeutic. Opportunities also exist to design and conduct high-throughput drug screening assays using tumor model systems developed in the lab. These model systems include isogenic cell lines generated in the lab using CRISPR/Cas9 genome editing, as well as 3D tumor organoid models derived from primary tumor tissue. The fellow will gain experience in the maintenance and propagation of ovarian cancer organoids, as well as their use in drug treatment studies. The fellow will also be involved in translational study design, data analysis, and manuscript preparation by attending lab meetings, journal clubs, and research seminars. The Hillman lab is a wet/dry hybrid lab with multidisciplinary projects that span a wide range of experimental techniques and gynecologic cancer histologies. It is a vibrant environment with numerous opportunities for acquiring new experimental or computational skillsets.
LEARNING OBJECTIVES
The primary research focus is to characterize the efficacy and mechanism of a novel kinase inhibitor in the treatment of a rare form of ovarian cancer; learn molecular biology, pharmacology, and genomic analysis skills.
ELIGIBILITY REQUIREMENTS
Individuals with a Ph.D. degree in cancer biology, molecular biology, pharmacology, immunology, or related fields. A strong background in pre-clinical translational research and/or molecular pharmacology is required. Experience with rodent studies is desirable but not required. The candidate should have strong organizational skills and the ability to prioritize and manage multiple projects. A proven track record of publications and excellent written and oral communication skills are required.
ADDITIONAL APPLICATION INFORMATION
Interested applicants should proved contact information for three (3) Referees in the Inquiry Form application.