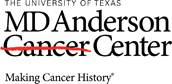 Job Information
MD Anderson Cancer Center

Postdoctoral Fellow

in

Houston

,

Texas
The Post-doctoral Fellow will lead research studies that use molecular imaging methods to evaluate the tumor microenvironment and wound healing with small animal models. These imaging studies will primarily use multispectral optoacoustic tomography (MSOT) and can also involve magnetic resonance imaging (MRI), positron emission tomography (PET), and electron paramagnetic resonance imaging (EPRI). These studies will require extensive image acquisitions and also require advanced image analyses. The Post-doctoral Fellow will interpret the results in the context of pharmaceutical sciences, including validation with ex vivo microscopy. The Post-doctoral Fellow will collaborate to write grant applications and manuscripts for publication and will present research at internal meetings and at external scientific conferences.
LEARNING OBJECTIVES
The Post-doctoral Fellow will continue to develop skills in biomedical imaging with small animal models, including image acquisition and advanced analysis. The Post-doctoral Fellow will also develop a strong understanding of cancer biology and wound healing processes in the context of molecular imaging. In addition, the Post-doctoral Fellow will develop skills needed for an independent career in academic research, including skills in management and leadership, technical writing, and scientific presentations.
ELIGIBILITY REQUIREMENTS
Minimum requirements are a PhD degree in biomedical engineering, pharmaceutical sciences, or a similar scientific field, with a minimum of 2 years of experience with ex vivo microscopy and/or in vivo molecular imaging.