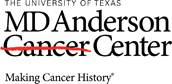 Job Information
MD Anderson Cancer Center

Research Asst II

in

Houston

,

Texas
MISSION STATEMENT
The mission of The University of Texas MD Anderson Cancer Center is to eliminate cancer in Texas, the nation, and the world through outstanding programs that integrate patient care, research and prevention, and through education for undergraduate and graduate students, trainees, professionals, employees and the public.
SUMMARY
To provide research support focused on preoperative computed tomography angiography for fibular free flap reconstructions, gadolinium-based contrast agents to improve detection of recurrent soft-tissue sarcoma at magnetic resonance imaging, and imaging to differentiate sarcopenia and cachexia among patients with cancer.
CORE VALUES
Caring: By our words and actions we demonstrate caring toward everyone.
We are sensitive to the concerns of our patients, their loved ones and our colleagues.

We are respectful and courteous to each other and practice cultural humility.

We promote and reward teamwork and inclusion.
Integrity: We work together with professionalism to merit the trust of our colleagues and those we serve in all that we do.
We hold ourselves, and each other, accountable for our work - decisions and data - and for practicing our values and ethics.

We advocate for diversity and equity for our workforce, for those we serve and for our community.

We communicate frequently, honestly, openly and responsibly.
Discovery: We embrace creativity and seek new knowledge from diverse perspectives.
We encourage continuous learning, seeking out information and new ideas.

We team with each other to identify and resolve problems.

We seek personal growth and enable others to do so.
Safety: We provide a safe environment - physically and psychologically - for our patients, for our colleagues and for our community.
We create a sense of security and empowerment and are committed to keeping one another free from harm.

We embrace a framework and best practices for the highest quality of care and service.

We inspire trust by modeling excellence in our work and acceptance of each person's contributions.
Stewardship: We protect and preserve our institutional reputation and the precious resources - people, time, financial and environmental - entrusted to us.
We prioritize the health and well-being of each other.

We act responsibly to safeguard the institution's finances.

We ensure the proper care and use of time, data, materials, equipment and property afforded to us.
JOB SPECIFIC COMPETENCIES
Conducts research experiments and projects. Conducts research experiments and projects under the supervision of faculty.
Data collection and analysis. Records and evaluates data in accordance with methods requested.
Scientific Writing Prepares scientific manuscripts and review articles to promote ongoing research projects.
Other duties as assigned
COMPETENCIES
Analytical Thinking - Gather relevant information systematically; break down problems into simple components; make sound decisions.
Innovative Thinking - Approach problems with curiosity and open-mindedness; offer new ideas, solutions and/or options.
Oral Communication - Express ideas clearly and concisely in groups and one-to-one conversations; create an environment with open channels of communication.
With Inclusion , you understand that your ideas and contributions are valued. You promote the same for others. You address your own biases while promoting diversity and equity. (Competencies: Cultural Humility, Cultural Awareness, Cultural Intelligence)
With Drive , you see that you can serve as a leader whether you have a formal leadership role or not. You tackle problems, move past setbacks and hardships, and don't lose sight of your goals. (Competencies: Self-Confidence, Analytical Thinking, Innovative Thinking, Technical Expertise)
You demonstrate Professionalism by setting the example for others and consistently modeling MD Anderson's values and service standards. You communicate effectively in a variety of ways. (Competencies: Inspire Trust, Oral Communication, Written Communication)
Through Emotional Intelligence , you maintain awareness of your own emotions and the emotions of those around you. Use nonverbal cues and feelings to engage others in an inclusive and responsive way. (Competencies: Active Listening, Teaming, Self-Reflection)
Having Coachability means you are engaged in relentless learning. You constantly ask questions and stay curious. You understand that the organization constantly evolves, and you should as well. (Competencies: Develop Oneself, Adaptability)
Bachelor's degree with major course works in one of the basic sciences. Two years experience in scientific or experimental research work. No experience required with preferred degree. It is the policy of The University of Texas MD Anderson Cancer Center to provide equal employment opportunity without regard to race, color, religion, age, national origin, sex, gender, sexual orientation, gender identity/expression, disability, protected veteran status, genetic information, or any other basis protected by institutional policy or by federal, state or local laws unless such distinction is required by law. http://www.mdanderson.org/about-us/legal-and-policy/legal-statements/eeo-affirmative-action.html
Additional Information
Requisition ID: 143331

Employment Status: Full-Time

Employee Status: Regular

FLSA: exempt and not eligible for overtime pay

Work Week: Days

Fund Type: Soft

Pivotal Position: Yes

Minimum Salary: US Dollar (USD) 36,000

Midpoint Salary: US Dollar (USD) 44,500

Maximum Salary : US Dollar (USD) 54,000

Science Jobs: Yes