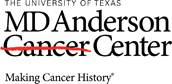 Job Information
MD Anderson Cancer Center

Research Data Coordinator Genomic Medicine

in

Houston

,

Texas
The primary purpose of the Research Data Coordinator position is to facilitate the research of Robert Jenq, M.D. and his colleagues, to investigate and develop novel strategies to improve clinical outcomes for patients who undergo hematopoietic stem cell transplantation (HSCT). Our research is focused on the effects of the intestinal commensal bacteria, also known as the intestinal microbiota, on a serious complication of HSCT known as graft-versus-host disease (GVHD). The candidate would work primarily on facilitating biopspecimen collection from patients undergoing HSCT as well as coordinate clinical trials of novel strategies targeting the intestinal microbiota.
JOB SPECIFIC COMPETENCIES
•Coordinates and participates in scientific research projects. Monitors and facilitates the collection of clinical biospecimens, including stool samples. Coordinates, evaluates and monitors clinical trials and research protocols by developing and revising databases. Consultation on appropriate analytical techniques for clinical research analysis.
•Participates in the informed consent process and data collection into the departmental database, according to departmental and institutional policies.
•Ensure protocol compliance and dissemination of new information and policies.
•Participates in departmental research and protocol meetings.
•Utilizes institutional and departmental databases to perform data retrieval for analysis. Designs retrieval templates for standard queries. Apply bio-statistical methods in analyzing clinical data such as pretreatment characteristics, response to treatment, toxicities, and mortality, etc.
•Compiles, writes, and submits reports to superior.
•Other duties as assigned.
COMPETENCIES
With Inclusion , you understand that your ideas and contributions are valued. You promote the same for others. You address your own biases while promoting diversity and equity. (Competencies: Cultural Humility, Cultural Awareness, Cultural Intelligence)
With Drive , you see that you can serve as a leader whether you have a formal leadership role or not. You tackle problems, move past setbacks and hardships, and don't lose sight of your goals. (Competencies: Self-Confidence, Analytical Thinking, Innovative Thinking, Technical Expertise)
You demonstrate Professionalism by setting the example for others and consistently modeling MD Anderson's values and service standards. You communicate effectively in a variety of ways. (Competencies: Inspire Trust, Oral Communication, Written Communication)
Through Emotional Intelligence , you maintain awareness of your own emotions and the emotions of those around you. Use nonverbal cues and feelings to engage others in an inclusive and responsive way. (Competencies: Active Listening, Teaming, Self-Reflection)
Having Coachability means you are engaged in relentless learning. You constantly ask questions and stay curious. You understand that the organization constantly evolves, and you should as well. (Competencies: Develop Oneself, Adaptability)
Onsite Presence: Is Required
WORKING CONDITIONS
Frequency
Deadlines
Patient Contact
Physical Proximity
Sedentary Environment
Traveling
Wearing Protective Equipment
--
Occasionally 11-33%
Occasionally 11-33%
Frequent 34-66%
Occasionally 11-33%
Frequent 34-66%
PHYSICAL DEMANDS
Frequency
Weight
Carrying
Keyboarding
Lifting
Pushing/Pulling
Reaching
Sitting
Standing
Walking
Neck Movements
Wrist Motion
Hearing Sensitivity
Visual Acuity
Occasionally 11-33%
Constant 67-100%
Occasionally 11-33%
Occasionally 11-33%
Occasionally 11-33%
Frequent 34-66%
Frequent 34-66%
Occasionally 11-33%
Frequent 34-66%
Constant 67-100%
Frequent 34-66%
Frequent 34-66%
10-20 lbs
--
10-20 lbs
20-50 lbs
--
--
--
--
--
--
--
--
COGNITIVE DEMANDS
Analytical Ability
Attention to detail
Interpersonal Skills
Oral Communication
Organizing
Written Communication
Comprehending
Following Instructions
Giving and Receiving Constructive Feedback
Appropriate Behavior
Mathematical Skills/Reasoning
Reading Skills/Comprehension
Organizing
Multitasking
EDUCATION:
Required: High school diploma or equivalent.
Preferred degree: Bachelor's degree.
EXPERIENCE:
Required: Two years of related experience. With preferred degree, no experience required.
Preferred: Related experience in the fields of clinical or biological research.
It is the policy of The University of Texas MD Anderson Cancer Center to provide equal employment opportunity without regard to race, color, religion, age, national origin, sex, gender, sexual orientation, gender identity/expression, disability, protected veteran status, genetic information, or any other basis protected by institutional policy or by federal, state or local laws unless such distinction is required by law. http://www.mdanderson.org/about-us/legal-and-policy/legal-statements/eeo-affirmative-action.html
Additional Information
Requisition ID: 150610

Employment Status: Full-Time

Employee Status: Regular

FLSA: non-exempt, eligible for overtime, and is subject to the provisions of the Fair Labor Standards Act (FLSA)

Work Week: Days

Fund Type: Soft

Work Location: Onsite

Pivotal Position: No

Minimum Salary: US Dollar (USD) 34,500

Midpoint Salary: US Dollar (USD) 43,000

Maximum Salary : US Dollar (USD) 51,500

Science Jobs: No