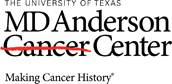 Job Information
MD Anderson Cancer Center

Research Nurse Supervisor - Thoracic Head & Neck Medical Oncology

in

Houston

,

Texas
The University of Texas MD Anderson Cancer Center is ranked the nation's top hospital for cancer care by U.S. News & World Report's "Best Hospitals." MD Anderson's mission is to eliminate cancer in Texas, the nation and the world through exceptional programs that integrate patient care, research and prevention.
The Department of Thoracic/Head and Neck Medical Oncology provides the highest quality of care to our patients and advances the treatment and prevention of aerodigestive cancers through innovative clinical and laboratory research.
KEY FUNCTIONS
Supervision of Research Personnel:
Provides direct supervision over assigned clinical research nursing, clinical coordinator, data coordinator, and other clinical research personnel. Participates with new employee hiring process oversees the ongoing development and orientation program for staff in alignment with applicable position descriptions.
Assigns workload as relates to protocol management; directs and assists research nurses and other research staff in all aspects of protocol management.
Maintains appropriate staffing levels and ensures fair distribution of workload among the clinical research staff. Reviews assignments on a routine basis in collaboration with the Supervisors of Clinical Studies.
Assures that direct reports adhere to all policies/procedures of the department and institution.
Evaluates performance of assigned staff through the departmental and institutional performance management system, and manages disciplinary actions as needed.
Provides professional and ancillary staff education concerning research protocols.
Coordinates educational activities for the research staff.
Conducts monthly clinical research staff meeting.
Mentor and educate newly hired nurses. Work with the Research Nurse Manager to develop a training plan for new research nurses hired within the department. This includes orientation to the department and clinic, education on research skills, as well as oversight of the initial protocol assigned to the new nurse.
Serve as a resource for the nurses (to which he/she is assigned) who have less experience in research. The focus will be on answering questions regarding specific situations in addition to assisting as problems or concerns develop between departments.
Serve as a resource for all research nurses when the Research Nurse Manager is out of the office. This includes making decisions regarding personnel issues in the manager's absence.
Manages and evaluates productivity, performance, and the training and development needs of staff . Provide back-up coverage for the research nurses during times of absence.
Completes yearly performance evaluations and conducts coaching and counseling sessions as appropriate. Provide written documentation as needed.
Protocol Management:
Consults with Principal Investigators (PI's) regarding ongoing clinical trial assignments. Works closely with Clinical Research Group (CRG) Leadership team and research nurse personnel to ensure consistency between protocol database and source documentation.
Provide enrollment and patient care for protocols to which he/she is assigned. This includes collecting and inputting data into the appropriate source as well as attending monitoring visits. Will carry a reduced load of patients and protocols.
Manages the effective operation of multiple department protocols as designated by the Department Chair in collaboration with the principal investigator or study sponsor. Provides overall coordination and facilitation of research activities and protocol patient care.
Assumes responsibility for the effective operation of research protocols in collaboration with the PI, Study Sponsor and other members of the Clinical Research Group (CRG) management team.
Maintains knowledge of the research process and resources available for the efficient management of research projects.
Assesses patients for protocol eligibility through personal interviews and/or medical record review in outpatient and inpatient settings.
Coordinates, evaluates and follows the patient's participation in clinical trials.
Provides documentation in the patient's medical record or recruitment log per protocol and institutional requirements.
Identifies and develops methods of patient screening.
Assists the primary investigator and other members of the research staff in collection, analysis, and evaluation of data.
Retrieves protocol-related data as documented in the medical record and accurately enters it into a computerized database.
Evaluates response to treatment, treatment toxicities and adverse drug reactions and reports appropriately to the principal investigator, the Institutional Review Board (IRB) and the study sponsor.
Provides protocol summary reports as requested.
Utilizes computer statistical/data management systems as necessary.
Participates in protocol-specific clinical tasks as needed.
Identifies and provides patient and family educational needs regarding treatment management, evaluation, and follow-up in clinical trials through talking with patients person-to-person or by telephone and/or through written educational material.
If necessary, administers investigational medications, following acceptable nursing procedures/guidelines.
Assists in the coordination with the collection of appropriate research related tissues and blood samples.
Orders protocol-related tests and procedures. In collaboration with the Laboratory staff, obtains pathology slides and blocks as needed.
Collaborates with the multidisciplinary team as necessary.
Administrative:
Collaborates with the management team on research policies/processes and quality assurance initiatives.
Educates and trains the clinical research staff in the research charge capture process. Reviews research charge capture process to ensure protocol billing compliance per departmental and institutional policies.
Provides pertinent team information as requested by the THNMO Clinical Trials Team.
In collaboration with the Clinical Research Group Supervisor team, ensures that all clinical research conducted by the department meets IRB, federal and/or guidelines and policies.
In collaboration with the Clinical Research Group Supervisor team, designs research tools to aid in data collection and analysis.
Represents the management team at departmental and institutional meetings.
Assists the THNMO Center Clinical Administrative Director (CAD) and Clinic Nurse Manager with integration and orientation of research staff members.
Interacts with THNMO Patient Access Center staff related to new patients, referrals, and protocol information; oversees the presentation of new clinical trials as indicated.
Assists in the preparation of departmental protocol audits.
Ensures accuracy in the reporting of effort for assigned research staff members.
Project Management:
Participates in departmental, intradepartmental, and institutional research related projects, committees, and initiatives.
Completes special projects and reports as requested by manager.
Quality Assurance:
Jointly with the Research Nurse Manager, provide QA review of selected cases.
Coordinates, plans and develops training programs for professional and ancillary staff on research protocols, policies and procedures.
Educational Activities:
Shares information and develops educational presentations for the standing Clinical Research Group Meeting and other CRG staff meetings.
Maintains working knowledge of current Code of Federal Regulation (CFR) and Good Clinical Practice (GCP) guidelines as well as a comprehensive understanding of the research trial process, including but not limited to eligibility and disease processes.
Attends approved off-site meetings, workshops and conferences.
Provides professional and ancillary staff education concerning the institution, the department and research through monthly meetings.
Participates in national organizations that are oncology and research focused.
Demonstrates excellent oral and written communication skills when contacting other institutions, patients, and agencies (National Cancer Institute, pharmaceutical companies, sponsoring agencies, etc.) by phone, email, and/or face to face interactions. Assimilates pertinent information in order to compose written correspondence.
EDUCATION
Required:
Graduation from an accredited school of professional nursing.
EXPERIENCE
Required:
Four years of registered nursing experience.
One year of research nursing and one year of lead/mentor, project management, or supervisory experience.
Successful completion of the LEADing Self Accelerate program may substitute for one year of required supervisory or management experience.
Must pass pre-employment skills test as required and administered by Human Resources.
LICENSURE / CERTIFICATION
Required:
All of the following:
Current State of Texas Professional Nursing license (RN) .
Basic Life Support (BLS) or Cardiopulmonary Resuscitation (CPR) certification.
Preferred:
American Heart Association Basic Life Support (BLS), ACLS (Advanced Cardiac Life Support) or PALS (Pediatric Advanced Life Support) certification as required by patient care area.
It is the policy of The University of Texas MD Anderson Cancer Center to provide equal employment opportunity without regard to race, color, religion, age, national origin, sex, gender, sexual orientation, gender identity/expression, disability, protected veteran status, genetic information, or any other basis protected by institutional policy or by federal, state or local laws unless such distinction is required by law. http://www.mdanderson.org/about-us/legal-and-policy/legal-statements/eeo-affirmative-action.html
Additional Information
Requisition ID: 153187

Employment Status: Full-Time

Employee Status: Regular

Work Week: Days

Minimum Salary: US Dollar (USD) 93,500

Midpoint Salary: US Dollar (USD) 117,000

Maximum Salary : US Dollar (USD) 140,500

FLSA: exempt and not eligible for overtime pay

Fund Type: Soft

Work Location: Hybrid Onsite/Remote

Pivotal Position: Yes

Referral Bonus Available?: No

Relocation Assistance Available?: No

Science Jobs: No