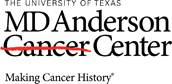 Job Information
MD Anderson Cancer Center

Sr Research Assistant - Leukemia

in

Houston

,

Texas
The University of Texas MD Anderson Cancer Center in Houston is one of the world's most respected centers focused on cancer patient care, research, education and prevention. It was named the nation's No. 1 hospital for cancer care in U.S. News & World Report's 2019 rankings. It is one of the nation's original three comprehensive cancer centers designated by the National Cancer Institute.
MD Anderson Cancer Center is a global leader in the treatment of blood cancers. The Leukemia department is one of the most successful disease-specific cancer programs in the world, as well as one of the largest. As the largest medical academic department within the Cancer Medicine division (https://www.mdanderson.org/research/departments-labs-institutes/departments-divisions/division-of-cancer-medicine.html) , we have 29 clinical faculty and 20 research faculty. We have approximately 450 employees in the academic department, another 120 outpatient center employees and 150 inpatient employees all of whom support the leukemia research program. Our program sees over 2,000 new patients and 50,000 outpatient encounters each year, while maintaining an inpatient census over 120 patients per day.
KEY FUNCTIONS
High-Risk AML MoonShot Management
o Monitors and scans newly diagnosed AML patients to identify those that are considered high-risk by mutations and cytogenetic abnormality.
o Obtains primary patient samples and use them fresh and/or frozen for sorting different populations.
o Extract DNA/RNA from sorted primary patient sample for Whole Exome Sequencing, and RNA-Seq.
o Follows-up with selected patient records prospectively from diagnosis, through remission, and relapse.
o Maintains a detailed and thorough data base with all necessary information about patients enrolled in this project.
o Performs in-vivo work associated with this project from primary sample injection into mice, retro-orbital bleeding to check for engraftment, and tissue harvesting and organ collection.
o Develops and conducts flow cytometric analysis using a flow cytometer and CyTOF.
Clinical Trials Management
o Monitor clinical trials by performing translational research on clinical samples.
o Reports data, and results in timely manner while ensuring the generation of high-quality and statistically relevant data.
o Covers and handles other trials in colleague's absence.
o Advises on different protocols starting in the lab, review specific sections of IRB protocols, and makes recommendations with regard to sample handling/processing, and best combination of parameters to use for optimal results generation.
o Supervise and train new assistants to help them achieve the goals of the tasks assigned to them.
o Ensure that new members of the lab understand the reasoning behind the proper ways to handle patient samples, and monitor their work to ensure compliance with the institutions guidelines for safe handling of primary samples.
Molecular Techniques & Laboratory Equipment
o Flow Cytometry, CyTOF, Soft agar assay, Cell Proliferation assay, Cell Staining, RT-PCR, ELISA, gene silencing (siRNA, and shRNA), FACS Analysis, Aldefluor assay (Analysis, and sorting), western blotting, Maintenance and splitting Cell lines, ,cDNA synthesis, cloning, PCR, DNA/RNA isolation, culture of primary leukemia cells, cell lines, mesenchymal stem cells, MSC-AML co-culture, plasmid preparation, restriction mapping, Page electrophoresis, light microscopy, fluorescence microscopy, histochemistry tissue preparation, Buffer preparation, pH measurements, solutions preparation, sterile techniques, and record keeping.
o Performs routine maintenance of ultra-low freezers, liquid nitrogen, C02 and water levels. Should be able to maintain equipment such as high-speed centrifuges, pH meters and microfuges.
o Handles running QC for Galios flow cytometer, and handles all the required maintenance, and troubleshooting procedures to ensure optimal functionality of the machine.
o Manually operates and maintains the lab equipment. Visually reads equipment operation manuals and procedure manual whenever necessary. Must be able to lift and carry items up to 20-25 pounds and carry or move from one area of the lab to another by using a roller cart. Must be able to comply with all institutional safety policies including Universal Precautions and OSHA standards when handling toxic, hazardous, flammable, radioactive or potentially infectious or carcinogenic materials. This may require wearing common protective garments or equipment such as gloves, eye protection, face mask, gown or lab coat, etc. Additionally, some procedures may require the use of a fume hood or biological safety cabinet.
EDUCATION
Required: Bachelor's degree in one of the natural sciences or related field.
EXPERIENCE
Required: Three years of experience in scientific or experimental research work. With preferred degree, one year of required experience.
It is the policy of The University of Texas MD Anderson Cancer Center to provide equal employment opportunity without regard to race, color, religion, age, national origin, sex, gender, sexual orientation, gender identity/expression, disability, protected veteran status, genetic information, or any other basis protected by institutional policy or by federal, state or local laws unless such distinction is required by law. http://www.mdanderson.org/about-us/legal-and-policy/legal-statements/eeo-affirmative-action.html
Additional Information
Requisition ID: 151582

Employment Status: Full-Time

Employee Status: Regular

Work Week: Days

Minimum Salary: US Dollar (USD) 41,500

Midpoint Salary: US Dollar (USD) 52,000

Maximum Salary : US Dollar (USD) 62,500

FLSA: exempt and not eligible for overtime pay

Fund Type: Soft

Work Location: Onsite

Pivotal Position: Yes

Science Jobs: No